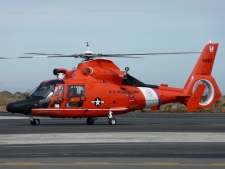 Port Angeles is home to a major Coast Guard installation, and it's a very active base.   The mission of Coast Guard Group/Air Station Port Angeles is to efficiently and effectively employ people and resources to promote maritime safety, enforce federal laws, regulations and treaties, protect the environment, defend the United States.
This photo of their rescue helicopter was taken at the Port Angeles site by J. Edwards.   See more photos at USGA Port Angeles.  
The Coast Guard's presence in Port Angeles began on August 1, 1862. Ediz Hook, a level sand spit extending from the mainland north and east into the Strait of Juan de Fuca, was declared a Federal Lighthouse Reservation by President Lincoln in 1863. The Air Station was commissioned on 1 June 1935, becoming the first permanent Coast Guard Air Station on the Pacific Coast. Its location was chosen for it's strategic position for coastal defense of the Northwest. The first aircraft, a Douglas RD-4 amphibian, arrived 11 June 1935 and flew the first "mercy hop" on August 1935. The 75-foot patrol boats were also stationed at the new unit.
During WWII, the Air Station expanded to include a gunnery school for aerial gunners and local defense forces. A short runway was added to train Navy pilots for carrier landings. It also hosted independent units such as Naval Intelligence and was Headquarters of the Air Sea Rescue System for the Northwest Sea Frontier Area. By the end of 1944, the Air Station had 29 aircraft assigned.
In September 1944 the station officially became Coast Guard Group Port Angeles, with several subunits. Today, Group Port Angeles is comprised of the Air Station, Station Quillayute, Station Neah Bay, USCGC CUTTYHUNK, and USCGC OSPREY.
In 1946, the first helicopter, a Sikorsky HO35-1G arrived. This was replaced in 1951 with the Sikorsky HO4S helicopter (the "Eggbeater"). The last fixed wing aircraft, the Grumman HU-16E Albatross (the "Goat") was retired in 1973. Since then the Air Station has been home to helicopters only, starting with the HH-52A Seaguard, first acquired in 1965. The HH-52A was replaced in 1988with the new American Eurocopter HH-65A Dolphin twin turbine helicopter. During a typical year, Group Port Angeles units carry out over 400 search and rescue missions, saving 35 lives and assisting 500 persons. Each year, property valued at over $2 million is saved. Coast Guard Group and Air Station Port Angeles continues its untiring vigil, true to the Coast Guards motto " Semper Paratus" ( Always Ready ).
The Coast just released its top 10 videos for 2008, and we include these consecutive videos here for your viewing pleasure.
Last Updated on December 29, 2008 by Chuck Marunde