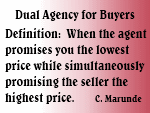 Dual agency can cost you money, a lot of money.  It can also cost you favorable terms in a real estate transaction.  A woman called me this week trying to get out of a dual agency relationship with her real estate agent.  Her story is a familiar one.  She saw a property for sale and called the phone number on the sign.  Nothing wrong with that when you want more information.  But it was what she did next that led her down a path she later regretted:  She hired the listing agent to represent her as a buyer, to help her get the lowest possible price, and to help her negotiate favorable terms.  This is the story of what happened next.
Dual Agency a Major Conflict of Interest
After the offer was submitted by her dual agent, the dual agent drafted a counteroffer for the seller and came back to negotiate against her for more money and some other concessions.  You have to marvel at the obvious conflict of interest here.  First the real estate agent represents the seller by listing the property and strategizing with the seller how they can maximize the price, and if they are lucky, get a buyer to pay more than the property is worth in the current market.  Then the same agent purports to represent the buyer by drafting an offer, strategizing with the buyer how they can get the property for less than it is worth and take the seller for everything they can.  Then the same nice agent represents the seller by drafting a counteroffer.  What a game!  With your money.

Dual Agency is Actually Legal
This week this victim called me to ask if she could retain my services as her buyer's agent, even though the offer had already been presented and was "in play," and there was a counteroffer on the table.  I would have loved to represent her as her buyer's agent and represent her best interests, but she already had an agent, albeit a dual agent.  I told her I could not and would not represent her.  I explained to her that she already had an agent.  He was her buyer's agent.  He was also the seller's agent.  It would be a violation of the Code of Ethics for me to interfere with her relationship with her agent, and it would be a violation of the law of agency in the State of Washington.  She told me she did ask her agent if he could represent her as a dual agent, and he promptly told her that he could.  Why not?  He would earn twice the commission if he represented both the buyer and seller simultaneously.  It was only when her own agent started negotiating against her with a counteroffer that she began to suspect that no one was watching out for her best interests.

Dual Agency is a Trap
This poor woman was on her own.  There was nothing I could do.  She was caught in a trap of negotiating against herself with her own agent.  Now you know why I have such a strong conviction that dual agency is a conflict of interest that works against clients.  I wish she had hired me as her buyer's agent.  Once the offer was presented with a dual agent, it was too late.  Dual agency can cost you big time.
Last Updated on August 5, 2012 by Chuck Marunde