When you look at older homes and newer homes, whether it is in Sequim, Port Angeles, or Port Townsend, there is major distinction you should make as a buyer, or you could find out after you move into the home that you paid too much. No one talks about this, so today I hope this will help you avoid overpaying for your dream home.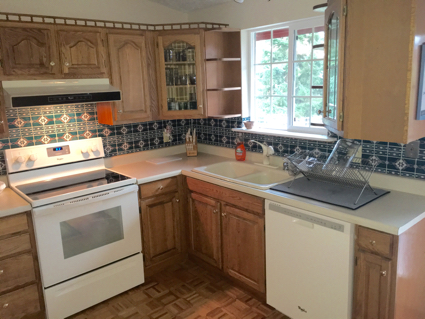 Older Homes v. Newer Homes
Here's the trap of comparing older homes with newer homes. You walk into an older home, and your first impression is good. You may say, "This is nice. I like it." Everything seems to be good. For example, take a look at this kitchen in the photo. It looks pretty good, doesn't it? There are things we just don't see when we are looking at homes, but they become apparent when we start living in the home. This kitchen is a remodel in a 1976 home. Can you see why this kitchen doesn't compare with the kitchen in a newer home?
Older Homes and Construction or Remodeling
I don't expect you to be able to identify all of them just from this photo, but many would be missed by the average buyer looking at 5 or 6 homes in the same day. First, the cabinets are cheap cabinets. They are not even designed for this kitchen. They are probably spare cabinets that were purchased at a discount sale. The top cabinet on the far right is a "hanging cabinet" that exposes a large blank side toward the dining room. The cabinet is actually a corner cabinet, and is sadly misplaced. In addition, there is actually very little functional cabinet space in this kitchen. You can't tell from the photo, but the wood floor is desperately in need of refinishing, and it doesn't match the wood floor in the adjoining living room, which was remodeled much later.
Newer homes will have a kitchen that was designed specifically for that space, and the cabinets will all fit seamlessly. This may not be immediately noticeable when you are looking at older homes, but this is important. 
What's the point? The kitchen in this photo would cost $25,000 to $40,000 to bring it up to the same quality and functionality as the kitchen in a newer home. Unfortunately, the listing prices of older and newer homes are often the same. Do not miss things like this when you are looking at newer homes and comparing them to older homes.
Last Updated on September 7, 2019 by Chuck Marunde