Sequim homes do sell every month of the year, including every winter month. Some homeowners decide to take their homes off the market during the winter months, and they usually add, "The market slows down in the winter and homes don't sell, so we're just taking it off the market until next spring." Well, don't tell all the buyers who keep buying homes every week throughout the entire winter.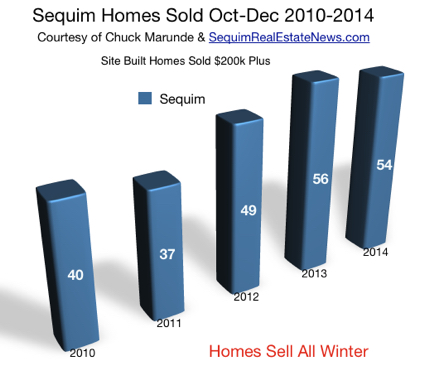 Sequim Homes and Steady Sales
This chart represents the past five years of Sequim homes sold from October through December. This is a small market, so the numbers are small, but they are consistent and it demonstrates that between 40 and 56 homes sell every year in the last three months of the year.
Looking at Sequim Homes
If you can come to look at Sequim homes in the final quarter of the year, you may be doing yourself a big favor. First, you get to see Sequim when it is it's worst–no leaves on the trees, brown grass, and maybe some rain or snow. Second, you are not competing against as many other buyers, because the total number of buyers slows down during the winter months. The misnomer is that homes don't sell. They certainly do, and if you're retiring, coming up in October, November, or December makes good sense.
Last Updated on September 7, 2019 by Chuck Marunde