Diamond Point is a 20 minute drive east of Sequim, Washington.  Diamond Point has been a bit of a sleeper, and while there are many retirees and retired pilots that live in Diamond Point, the majority of buyers moving to Sequim in the past decade have felt that Diamond Point is a little too far out of town.  It's a 15 to 20 minute drive to Sequim.  But Diamond Point has gained an entirely new interest for buyers of late.  I've showed more homes in Diamond Point in the past few months than I have in the past five years.  This photo is from the back yard of a home I just sold in Diamond Point.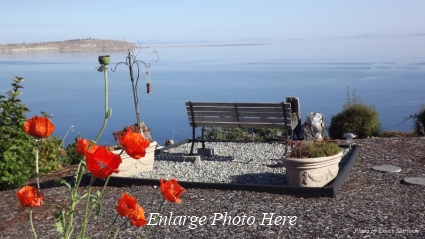 Diamond Point and Water Views
Diamond Point has some of the most incredible water views in the county, but it's not easy finding a nice home with a water view currently for sale.  Diamond Point is a mix of old homes, newer homes, a few older mobile homes, beachfront homes, and homes sitting on the hill with panoramic water views.  There are some inexpensive homes, and there are some expensive homes.  Diamond Point also has more homes with private airplane hangars any other area in the county.
Diamond Point Home For Sale
This Diamond Point home has a stunning water view.  On the day I took this photo, the water was like glass with no breeze whatsoever.  A Bald Eagle was scouring the surface of the water for prey, and landed in a nearby tree.  The setting was serene.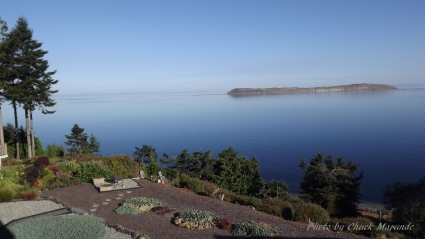 Diamond Point Becoming More Popular
Water views are becoming harder to find in and around Sequim and Port Angeles.  As I often like to say, "They're not making water view property any more."  I recently have been looking at water view lots for clients, and we are having trouble finding a nice lot with a good water view anywhere along the coast from Diamond Point to Sequim to Port Angeles.  If you're looking for a home or land with a great water view, I would suggest that you know exactly what you are looking for and be ready to make your offer without delay, because such property is rare.
Last Updated on September 21, 2012 by Chuck Marunde