You can receive Sequim Real Estate News via email once a week by simply subscribing here.  Once a week you will receive an email with the past week's list of articles.  You will see the full titles and if any of the articles look interesting, you just click on the title and Voila! you're reading the article.  [The links are active in the email newsletter.]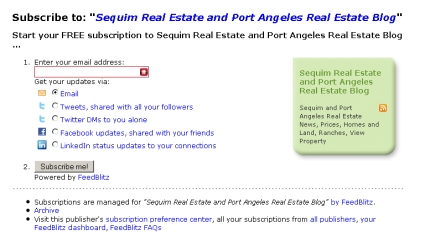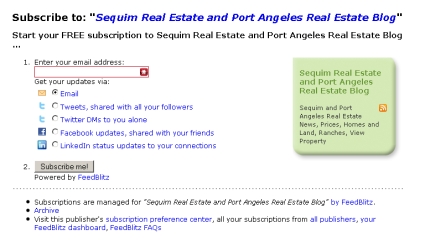 Here's what your weekly newsletter would look like in your email inbox:
"Sequim Real Estate Real Estate Blog" – 9 new articles
How to Save Money Buying a Sequim Home

Sequim Real Estate Sales Report

From California to Sequim

Real Estate and Estate Planning and Death

Short Sale Success Depends on Where You Live

Bigger, Faster, Stronger is the Motto

Port Angeles USDA Affordable Housing

Will the Seller Accept a Contingent Offer?

Buying Land Checklist

More Recent Sequim Real Estate Articles

Search Sequim Real Estate and Port Angeles Real Estate Blog
Sequim Real Estate Newsletter
You can just as easily unsubscribe to the Sequim Real Estate Newsletter anytime you want yourself online.  This is a free Sequim Real Estate Newsletter.  Well, it's much more than that.  The Sequim and Port Angeles Real Estate Blog is the largest real estate blog in Clallam County with detailed articles on various aspects of buying and selling real estate in Sequim and Port Angeles, legal issues that buyers and sellers want to know about, insider tips about pricing and negotiating, foreclosure secrets, examples of forms, graphs and charts on the real estate market, videos, and a lot more.   The articles are written by a 20 year real estate attorney and now broker and Realtor, author, and Internet marketing consultant.
Your Sequim Connection – The Sequim Real Estate Newsletter
Subscribe to the Sequim Real Estate Newsletter via Email now.
Last Updated on October 8, 2013 by Chuck Marunde