Good news on the Sequim MLS for mobile. Search the Sequim MLS on your iPhone app from anywhere. Ever wonder what the price of Sequim homes are while you're driving around in your car?  You can sit in your car at the curb and look up the price, interior photos, and all the important information about that home.  Simply use your iPhone to download the free iTunes app for the Sequim MLS.  Chuck Marunde created the first iTunes app for real estate in the entire Sequim and Port Angeles real estate market back in 2010, and he wrote about it last in July of 2012. [Note: Here it is June of 2015, and this mobile Sequim MLS is still popular for buyers driving around!] It's such a powerful mobile tool to search the Sequim MLS from anywhere, you'll want to know about it. All you have to do is search for "Sequim" in the iTunes app store, and Voila!  Look for the Sequim & Port Angeles Real Estate app. Download it and start to use it anywhere anytime.  Buyers have been using this app for about four years now, and they love it!
Sequim MLS From Your iPhone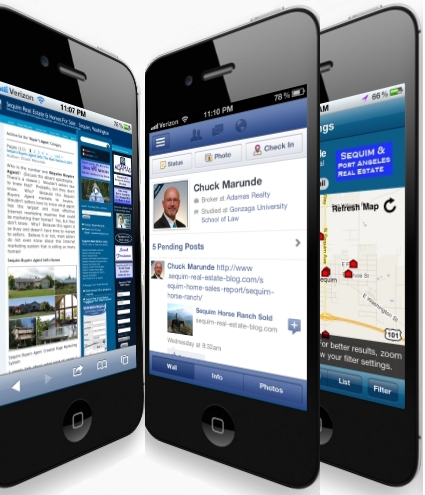 Sequim MLS – iPhone or iPad
Of course, this same app works on your iPad.  I had this app programmed for your mobile device so it would be super convenient for you, as a buyer, to drive around and search the Sequim MLS from your iPhone anytime you arrive in Sequim.  Of course, this works in Port Angeles, too, and it works in Port Townsend, Port Ludlow, Port Hadlock and most of the state of Washington.  I've tapped into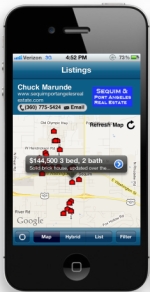 two MLS's so you could look up the price and photos and full MLS information for any home from anywhere. It even includes foreclosures.
Sequim MLS from Your iPhone 24/7
It's great to be driving around and see a home for sale and be able to instantly look up the price and see the inside photos, right from your car at the curb in front of the house.  Viewing the Sequim MLS from your iPhone is the answer. While this powerful app is convenient, most of my clients like to plan ahead and filter through the online Sequim MLS and narrow down their list of Sequim homes to view 8 or 10 homes.  I recommend doing that, and then email me ahead of time so we can plan to view your list of Sequim homes.  But many of my clients will be driving around and want access to the Sequim MLS from their car, and that makes this app a perfect companion to find out everything using the Sequim MLS from your iPhone anytime anywhere.
Ask Chuck Marunde to be your Sequim Buyer's Agent by calling or texting him at 360-775-5424. He is constantly ahead of the crowd, and this is proof, a mobile app for the Sequim MLS.
Last Updated on September 22, 2019 by Chuck Marunde