Are you searching for a special Sequim property? I think each of us searches for what we perceive as our ideal property, a home and property where we could be comfortable and happy forever. Over the past two decades I have jogged, bicycled, and driven thousands of miles on local back roads looking at Sequim property. I've shown and sold Sequim homes to many buyers from around the U.S.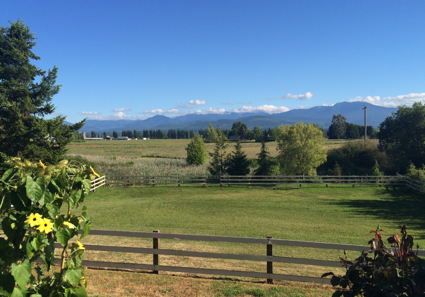 But I recently learned something new about Sequim property when I purchased my own home. It has been a very pleasant surprise, and I'm thinking you might like to know what I discovered.
My Dream Sequim Property
I bought a Sequim property about 6 miles northwest of downtown. My 2.58 acres are about half a mile from the bluff on the Strait of Juan de Fuca. If you tell anyone who lives in Sequim that you've bought a house out in this area, their immediate response is almost always the same, "Oh, it's really windy out there." But have they actually lived in this area? Most of the time the answer is no.
In my first week on my Sequim property, it has been a little gusty in the afternoon, but guess what? Recently it has been gusty in and around most of Sequim, too. I talked to an old timer who lives near the bluff, and he said it's gusty about 30% of the time. Many days it is perfectly still with no breeze at all. So it really isn't windy all the time or even most of the time.
Sequim Property Surprises
Even though I knew the area well, I've had two big pleasant surprises on my special Sequim property. The first is the freshness of the ocean breeze that comes from the northeast. It is so fresh, it surprised me. Miles inland that breeze looses some of its ocean freshness. If you've ever stood on the shore of an ocean or sea, you know exactly what I mean. I love it. And when there is a breeze, it gently passes through my house when I open windows on the north and south sides.
The location was very important to me. I wanted what I call "useable property." All of my land is useable (not steep hill sides), and I got an added bonus of being on a large irrigation system, and as you probably know, water is worth its weight in gold these days. As the TV infomercials like to say, "And wait, there's more." I also have a delightful panoramic mountain view from my back deck and back windows.
The second big surprise is that I can actually hear the waves crashing on the beach, even though I'm at least a half a mile inland. Holding a cup of hot gourmet Starbucks in my hand and walking my property early in the morning or in the evening with that fresh ocean smell and the sound of waves has added a whole new dimension to my life. And it is good. This is my kind of Heaven–my little Sequim property.
Conclusion: Be cautious about free advice about where you should live. Such advice is often missing out on some of the greatest delights you may experience on your Sequim property.
Last Updated on September 7, 2019 by Chuck Marunde