The Sequim Blue Hole strikes again! Live Doppler Radar shows how Sequim and the little Sequim Peninsula is completely dry while all surrounding areas are raining. This became quite an object lesson this afternoon as the Sequim Airport sponsored their annual Sequim Air Affaire. At 7:00 a.m. the airport was nearly socked in and looking ugly, but by noon, the Sequim Blue Hole opened up, while rain clouds and inclement weather could be seen all around the airport.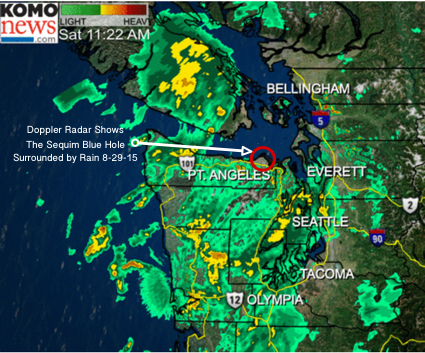 Sequim Blue Hole
To read more about this famous weather phenomenon, read this article at Sequim Blue Hole. You can learn more about the Sequim Airport and the Air Affaire at Sequim Airport.
Sequim Blue Hole Big Attraction
The Sequim Blue Hole has put Sequim on the map for retirees from all over the United States and the world. This brokerage has had buyers from as far away as the Netherlands, Japan, and China. Retirees are often looking for a climate without extremes, and a place where they can live comfortably and safely. The Sequim Blue Hole puts Sequim between Alaska and Nevada in terms of climate, and has no extreme temperatures and no extreme weather conditions. 
No wonder so many retirees have been researching Sequim and buying their homes here. For many, the first time they find out about the incredible Sequim weather is when they first read about the Sequim Blue Hole. 
Last Updated on September 7, 2019 by Chuck Marunde