You can get Sequim real estate listings updated daily to your email inbox, exactly to your own specifications.  Why is this important?  There are three major reasons.  First, you can decide exactly what kind of home you want, and you set the parameters, and you only receive new listings that fit your parameters.  Second, you are in control of your home search on your time and on your terms without a Realtor hounding you.  Third, you can get accurate information on new listings, if you're using a site with complete data from both MLSs and all Sequim real estate listings.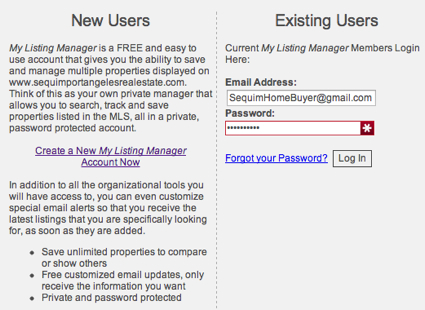 Sequim Real Estate Listings New Updates
Buyers like to be in control today of their own search of Sequim real estate listings, and this is one reason the Internet is such an incredible tool for buyers.  One of my clients told me a story about how she had explained to an agent once exactly what she wanted, and that agent started sending her daily emails of more expensive homes that were not at all what she wanted. 
This client found that very annoying and terminated her relationship with that agent.  The system I created for my clients allows you to set up your own specific search parameters and you get the updated listings to your email.  And you can edit your search parameters anytime yourself, and when you don't need updates, you can terminate the service.  The nice thing is that you only get an email if there are new listings with your exact search parameters, so your email updates may only be once a week or however often there is a new listing you need to see. This puts you in total control of your search in Sequim real estate listings.
Sequim Real Estate Listings and Accuracy
If you're a buyer from outside the Sequim and Port Angeles area, you may not know there are two MLSs, and neither MLS has 100% of all the Sequim real estate listings.  The site I want you to know about is one I had programmed that includes all the listings from both MLSs, which includes the Olympic Listing Service and the Northwest MLS.  Some brokers in Sequim and Port Angeles only belong to one MLS, and if you are searching their site, you won't pick up all the available Sequim real estate listings.  If you use one of those sites to get email updates, you won't be getting all the new Sequim real estate listings.  You could miss "the one."  This is no small matter.
Sequim Real Estate Listings Site
You can use this service at your own leisure, and it is in my opinion, the most powerful online site to receive updates for new listings according to your search parameters.  You're going to love this free service that you control.  I give you Sequim real estate listings by email.
Last Updated on September 19, 2019 by Chuck Marunde