It makes sense to look at Sequim foreclosures and Port Angeles foreclosures if you are retiring and looking for the best value in your retirement home.  But I don't want you to waste time on sites that purport to list foreclosures when they do not. There are many, and in Clallam County that includes inaccurate data on Foreclosure.com and RealtyTrac.com.  There is one accurate source of information on foreclosures that are in the actual process of being foreclosed or already have been.  Here I share that resource with you.  This site is the Clallam County Auditor's website, and you'll find recorded documents for any foreclosure in the county on this site.  No other service anywhere on the Internet has this original and accurate information on Sequim foreclosures and Port Angeles foreclosures.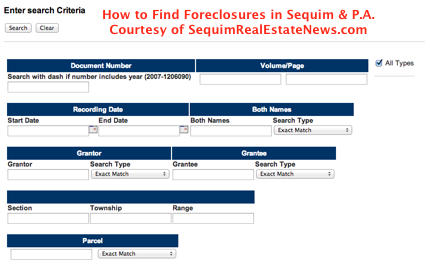 How to Find Sequim Foreclosures
The first site you will go to is:  
http://vpn.clallam.net:8080/recorder/web/.  
Not exactly a website address that you can remember, is it? This site includes all Clallam County real estate recordings, but we need to narrow it down to Sequim foreclosures.  Once you get past the first page, you'll see the image above.  Uncheck the box on the far right side entitled "All Types."  When you uncheck it, a new drop down menu will appear, and you should scroll down until you find "Notice of Trustee Sale."  Select it.  Next you need to select the date range of your search.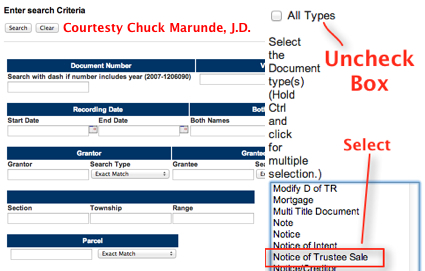 Tips to Narrow Your Search of Sequim Foreclosures
Here's a tip on selecting the date range of the recorded Notice of Trustee's Sale for all Sequim foreclosures.  By Washington law a Notice of Trustee's Sale must be recorded at least 90 days prior to the sale at the courthouse.  This means you should work backwards to select the date range.  If you want to see the foreclosure sales coming up in the next 30 days, you'll need to go back to search for Notice of Trustee's Sales that were recorded more than 120 days ago.  This is the most accurate way to track Sequim foreclosures, and that's a fact.  Having been a Sequim real estate attorney who did foreclosures, I know this is true.  [Read Another Sequim Foreclosure Disaster.]
As a Sequim buyer's agent, I help my clients find their perfect retirement home wherever it can be found, in the Olympic MLS, the Northwest MLS, a private sale, a short sale, or among Sequim foreclosures.
Last Updated on September 19, 2019 by Chuck Marunde