Home sales and home building have picked up in some areas of the country.  This is good, and it bodes well for the real estate market, but it does not necessarily give us a solid basis on which to predict a recovery.  Any improvement, any increase in market activity is encouraging.  The Sequim real estate market depends heavily on the health of the real estate market around the country, especially south (Oregon, California, Nevada, Arizona, Texas, etc.).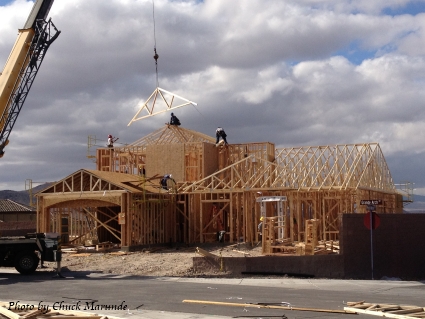 An increase in sales and building activity in a city like Las Vegas can be considered a lead indicator for Sequim, Washington, because many of our buyers come from these other states.  There has been an increase in sales and building in the Las Vegas area, including Henderson, Nevada.  In this photo above a home is building built in a Henderson subdivision.  There are actually about 10 homes being built in this neighborhood right now, and while I was walking the neighborhood, another couple drove up and stood on a lot they we were obviously contemplating buying.
(By the way, I was in Las Vegas this weekend to watch my son, Bristol Marunde, fight and win the mixed martial arts middleweight title.  If you have an interest in MMA, you can read all about Bristol's fight at The New SCC Middleweight Champion.)
There are still segments of the real estate market that are in disarray and will be for years.  Foreclosures and short sales will plague the market for the foreseeable future.  The mortgage market is fraught with regulatory chaos that causes underwriters nightmares.  But there are healthy segments of the real estate market, and qualified buyers with good paying jobs or good retirement pensions will continue to buy and build homes.
Homes sales are picking up in some key areas around the country, and that was true in Sequim, Washington this summer and fall.
Last Updated on September 2, 2019 by Chuck Marunde