The housing market is both strong and weak, and that's not so much of a play on words as you may think.  The majority of the real estate market is in the tank almost everywhere in the United States.  Vast numbers of homes in this housing market have been in the MLS for a long time, some for two or three years or more.  This is the segment of the housing market that we read about on the front pages and hear about on the T.V. news.  It is full of homes people cannot sell, homes that buyers do not want or cannot finance, and includes foreclosures.  This is the segment that is weak.

The Las Vegas Housing Market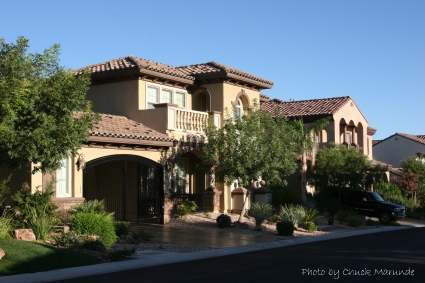 The Housing Market Good or Bad?
I just spent the weekend in Las Vegas, and my interest in the condition of the housing market prompted me to talk at length with a local Realtor about the housing market.  I spoke with Aubrey Buck, a top producer who will close a dozen transactions this month alone.  Here is what I learned.
The Las Vegas Housing Market Similar to Sequim
The Vegas market is surprisingly similar to Sequim, Washington.  Here's is what I mean.  Both markets have a large percentage of homes that have not been selling within a reasonable period of time.  Both markets have fewer buyers than in years past.  Both markets have seen substantial discounts in the prices of homes.  But here is where the similarity is fascinating:  Both markets have a small segment of the market that is selling quite well and within a reasonable period of time and for good prices.  This is the segment of the market that is strong.

In this recession, and especially in Las Vegas where the media reminds us constantly that the housing market is in shambles, Aubrey Buck is selling houses as fast as she can, and that means selling three homes every week.  Aubrey is selling the best homes in the best areas for the best prices, and for these homes there are more buyers than she has time for.  Believe it or not, but Aubrey told me that she doesn't have time to put up signs on her listings, because they get sold within a few days.  That's not happening in Sequim, but retirees are planning many months in advance before they arrive in Sequim to look at homes.  So even the ideal home in Sequim listed at a great price may be on the market for a few months before prospective buyers get to view it. 
Who are the buyers for Aubrey's homes?  They are investors who realize this is the best time to buy in years with prices dragging bottom and with historically low investor interest rates.  They are also first time home buyers, which we don't have in Sequim, and they are upper income buyers moving to Vegas.

The Sequim housing market has a similar pattern, and I've been writing about this for over a year.  The best homes in the best areas are selling for reasonable prices, while the majority of the housing market in Sequim sits on the market waiting for a buyer who never comes.  The challenge for retirees is that the small number of ideal homes that almost all retirees tend to focus on are selling, and when they are sold, they are off the market forever.  As these better homes are removed from the MLS inventory, that leaves the larger percentage of homes that no one wants.  This is why retirees are making their move this summer in Sequim to buy a home.  They also believe interest rates are going to go up.
Sequim does not have investors buying homes, certainly not in any significant numbers.  Sequim also does not have a market for first time home buyers.  The Sequim housing market is almost entirely retirees, who are largely looking for similar homes.
Last Updated on September 16, 2011 by Chuck Marunde