Seller financing has made a small comeback, and a few sellers are deciding to carry the loan for a buyer.  Why would a buyer and a seller agree to a private contract without any bank financing?  For two major reasons. 
Seller Financing Good for Buyers
First, the buyer may not qualify for a loan, although the buyer may have a large cash down payment and a very good job with plenty of monthly income to make payments.  There are many legitimate reasons a buyer today may not qualify for a bank loan.  Some of my clients who are retired, co-signed for an adult child on a car or home, and that loan ended up in default and they took a big hit on their credit score.  A divorce can destroy a person's credit worthiness.  Losing a job or filing bankruptcy in the past 10 jobs can be a negative factor.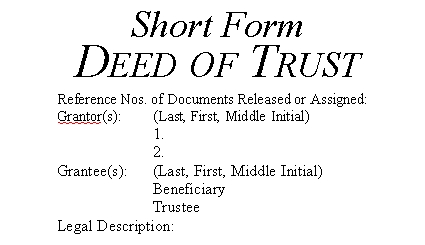 Seller Financing Good for Sellers
Second, a seller may have own his home free and clear of any mortgage, and after many years of retirement decides to move closer to grandchildren.  If this seller has a steady retirement pension and doesn't need a big chunk of cash right now, he might find that selling his home with seller financing is a great return on his money and he would be very secure.  It is probably a better investment of the proceeds than throwing it into an uncertain stock market or the vagaries of the precious metals market.  A seller who holds the contract has a deed of trust in first position with his own real estate as security for the loan.  If the buyer defaulted, the seller would take the home back and sell it again.  If the buyer never defaults, the seller gets a nice down payment plus a nice monthly payment at an interest rate higher than he could get in the stock market or in a certificate of deposit or bond or almost any other equally conservative investment.
How Seller Financing Works
In Washington there are two ways to do seller financing:
A Deed of Trust and a Promissory Note (see the deed of trust foreclosure process); or

A Real Estate Contract, aka Land Contract (see the real estate contract forfeiture process).
Provided the seller still does his due diligence on the buyer (credit report, job history, references), and provided the seller gets a reasonable down payment, a seller can get a higher interest rate than a mortgage broker.
How to Structure Seller Financing
If you have the opportunity as  buyer or seller to enter into a seller financing arrangement, you probably need to know what the standard of practice is for the amount of the down payment and the interest rate and term.  This is important, because in 95% of the cases no one in the transaction has any idea what is appropriate.  In other words, neither the buyer nor the seller have done contracts like this, and they don't know.  Typically their Realtors haven't been involved in very many seller financing deals, and they don't know what is standard or what other people do all the time.  I only know because I did these contracts as an attorney for 20 years and also as a Realtor.  I'll tell you what happens most of the time.  A buyer says, "Will the seller carry the contract?"  The seller's agent hasn't discussed this with the seller, and the seller's agent then asks, "Well, how much can the buyer come up with?"  Then the buyer says, "As little as I have to come up with."  The seller tells his agent, "Well, I want as much down as I can get."  The point is, none of them know how to get off the Merry-Go-Round because they don't know what the guidelines are.
I wrote earlier articles on this topic, and if you're interested, you can read them at:  Sellers Can Carry the Contract and How to Sell Your Home for More.
Here are some seller financing guidelines for consideration.  The seller needs at least enough to pay  all selling costs, including the excise tax of 1.78% plus the real estate commission of 5% or 6% plus other small closing costs.  Then the seller may need some money to move, which could be $10,000 to $40,000, depending on the seller's financial situation and needs.  The buyer may start with an offer that covers the seller's costs and puts $10,000 to $20,000 in the seller's pocket at closing.  If the seller demands a lot more as a down payment, the buyer may simply walk.  It only works if the seller and the buyer can both make the numbers work.  I've closed two transactions just like this in Sequim this summer, so seller financing is possible.
Last Updated on September 1, 2019 by Chuck Marunde