If you're coming to look at homes in Sequim to buy your retirement home, you may want to know how the Sequim rental market is doing? You may want to rent a home for a while before you buy, or you may want to rent a home on a short term basis. Can you do this, and are there plenty of homes on the rental market?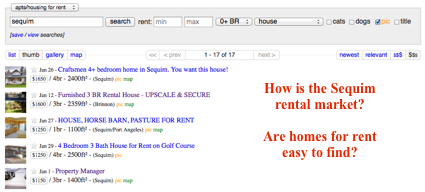 The Sequim Rental Market
If you would like to rent a two or three bedroom home in a nice area with some privacy, you will have a hard time finding it in the Sequim area. Right now the rental market inventory is very limited. I saw one home advertised that had potential, and so I drove past it, but it did not look nearly as good as it did in the photo, and it was right on a road (the front door was about 40 feet from the pavement). There are many run down rentals available, or rentals that are missing something important. I looked at one that sounded great, but it is in a location that does not get decent cell phone reception, and high speed Internet is not available in that location.
Rental Market Online
You can search the Sequim rental market in three primary locations. Action Property Management has a website, Landmark has a website, and Craigslist also has rentals online. You can expect to pay at least $1,250 for a decent rental. Depending on when you look at the rental market, you might come to the same conclusion I did. All the good homes are for sale, not for rent.
Last Updated on September 21, 2019 by Chuck Marunde