This Sequim ranch is one in a million, and with a barn, stables, 15 acres, and a phenomenal mountain view, this custom built home is almost too good to be true. Wait 'till you see the kitchen.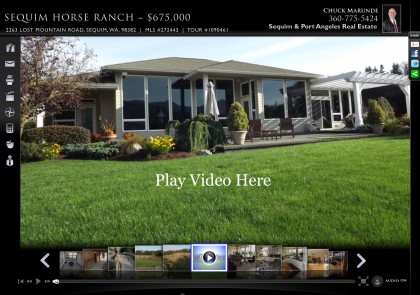 Sequim Ranch with Mountain View
As you can see on this video, this Sequim ranch has an incredible close up mountain view of the Olympic Mountains. The mountains feel like they are right off the back deck, and they almost are. This property has water rights filed in the early '70s, and there's irrigation and a big deep pond with water year round. There's a cold storage bunker outside, or what could be in incredible wine cellar. There's a barn, stables, a shop, in addition to the large two car garage attached. There's a beautifully built dog run with a high fence. There are almost 15 acres, and much of the pasture is fenced into sections for grazing horses or cows or any kind of animal. 
Sequim Ranch is Custom Built Luxury
This Sequim ranch home was built in 1999 by one of the local premier luxury home builders. The quality is obvious, and the closer you look, the better it is. The appliances are also the best, the flooring, the den, the master bedroom and bath, are all . . . well, you have to see them to capture the design comfort. Everything was built to be very functional, but the interior of this home has so much natural sunlight, you'll be impressed with the planning that was done.
See photos and the MLS listing information at Sequim Farm For Sale. You can learn more by emailing or calling Chuck Marunde anytime about this Sequim ranch home.
Last Updated on September 21, 2019 by Chuck Marunde