Looking for a custom built home with a great Port Angeles Mountain View? This home is almost midway between Sequim and Port Angeles, and it has a view of the Olympic Mountains. As you can see from the photo below, and in the photos you can view in the link below, this is a home with lots of natural light. The large windows face south and capture the sun all day long filling this home with a warm glow that soothes the soul in stressful times.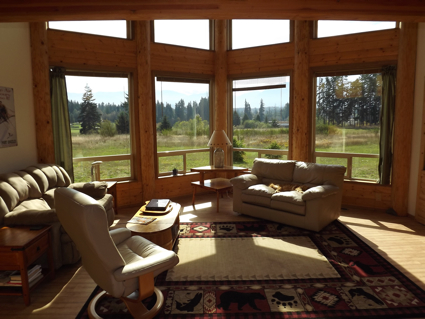 Port Angeles Mountain View Home for Sale
You can see more photos and all the details on this home at Port Angeles Mountain View Home. I wrote this in the MLS narrative: "Port Angeles cedar home with incredible mountain view, 30 foot ceiling in living room, lots of windows facing the mountains, master suite with mountain view, very comfortable home and special rooms beyond the bedrooms for reading or hobbies."
The master suite is on the second floor, so if you don't want stairs, this home may not be your dream home, but if stairs are okay, you definitely want to see this home. This home was custom designed and custom built specifically to capture this mountain view. There is a huge pantry behind the kitchen, and you'll find a loft in the home with room for a reading chair where you can fall asleep, and the wife won't be able to find you. If you are looking for a Sequim or Port Angeles mountain view, this may be it. Update: This property has been sold.
Last Updated on September 21, 2019 by Chuck Marunde