How many Sequim homes are selling?  We can measure that right now by home many listings are pending, aka "Active Under Contract."  We have had a major ground swell of buyer activity in July and August.  I have been very busy showing homes and drafting offers, but I wanted to look at the total activity by all agents in the area to more accurately gauge this apparent burst of activity.
Sequim Homes Are Selling in Hot Season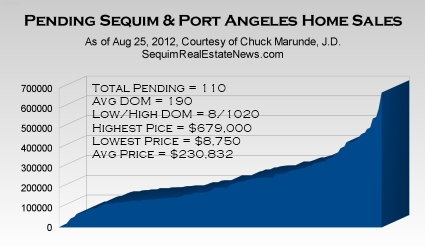 Out of 777 Sequim homes for sale in the MLS, 110 are pending (sold) as of today, August 25, 2012.  That's a large number suddenly, and this alone tells me many Sequim homes are selling this summer.  The average days on market (DOM) for these pending sales is 190 days.  The highest priced home sold in this group is $679,000.  That's significant, because homes in the upper price ranges have not been selling much for a couple of years.  In the past 12 months only four (4) homes have sold above $700,000.  I sold one of those homes last month for $725,000.
Sequim Homes Are Selling Again
This is interesting data, certainly for sellers who have been hanging onto the hope that their homes will sell, but if you're a buyer or prospective buyer, this is definitely relevant.  Competition has heated up for the best homes in the best areas, but only for the homes that are currently listed at the most reasonable prices.  Homes that are not what retirees want, and homes that are listed at prices that are grossly over their fair market value are just sitting on the market with no offers.  But Sequim homes are selling right now, and there is significant competition among retirees.

Sequim Homes Are Selling if Priced Right
Here's my best truncated advice for buyers in the context of a market where Sequim homes are selling. 
First, do your online MLS search before you come for a period of weeks or months, and narrow down your filtered list to six to 12 homes to view when you come to Sequim.  In that process, you should be emailing and talking with your agent to get more information and maybe more photos so that your ultimate list is a good list of homes that really meet your needs and wants.  
Second, find the best, honest, competent, experienced, and professional Realtor you can find in Sequim.  I realize that sounds self-serving, but regardless of who you hire, this is solid advise.
Third, when you come to look at homes, have discussions with your agent while at each home, comparing the area, features, and prices.  You are collecting data, sorting it in your mind, and evaluating each home like a master computer that also happens to be in touch with your deepest emotions.
Fourth, negotiate intelligently, and this is where your Realtor's experiences will be worth gold. 
Fifth, when you find the ideal home, don't fool around.  I showed a home this week that my client loved, but it had been shown to another buyer and agent the same day before we got there.  My client made a full price offer, and the other buyer apparently made a full price offer on the same day.  My client won.  Why?  We knew how to play the game, structure the offer knowing that another offer could be made and how it likely would be drafted, and we drafted an offer that persuaded the seller to accept it.  (There's more to the details, but those are details I only share with my clients.  No sense teaching other Realtors how to compete with my clients.)  
Sixth, let your agent help you through all the due diligence inspections and information gathering to be absolutely sure that you will get the home you hope it is and close without undue delay or issues.
It's a great time to buy a home in Sequim.  Prices are at or near a bottom, and interest rates are at or near an all-time low.  Now is a good time if you're a discerning buyer.  Sequim homes are selling very well this time of year.
Last Updated on August 25, 2012 by Chuck Marunde