Sequim investors cannot find great deals on homes in Sequim.  They are literally unable to find good investment properties to buy with cash.  You would think that in this recession that there would be many homes at incredible bargain prices, and that Sequim investors would be swooping in to snap them up, but such deals do not seem to exist in our market.  Why is that?
Sequim Investors Get Skunked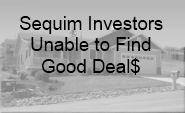 The headlines around the country for quite a while have been all about the large numbers of foreclosures flooding the market, the crashing housing prices, the home builders going bankrupt, and the mortgage debacle.  Stories are told again and again about the guy who bought a three bedroom home in Vegas for $75,000, or the couple who bought a four bedroom mountain view home on 20 acres in Arizona for $225,000.  Stories abound.
So why can't Sequim investors find these extraordinary deals?  They don't exist in Sequim.  Nor do they exist in Port Angeles.  It sure seems like they should, but they don't.  I have cash buyers waiting for me to find an extraordinary deal.  Try as I might, and I look at a lot of homes in the area, I have not found a home that a Sequim investor could buy, put $20,000 into it with their own labor, and re-sell for a profit.
Sequim Investors Say Where Are The Deals?
Some might think there are many homes for sale, and there are, but not the kind that can be resold within six months for a profit.  Sequim buyers, and this means retirees from outside the area, are not interested in 1970's style homes with a split level floor plan, or an unusual floor plan, or a home in an unfavorable area.  Investors won't touch these kinds of homes, because they cannot sell them.
If I could find a post-1990 three bedroom, two bath home with a normal floor plan, a roomy kitchen with plenty of cabinet and countertop space and about 2,400 square feet on a nice one acre lot with a mountain view of some kind, one that needed some remodeling and cosmetic work and could be purchased for about $185,000, I could sell that to an investor in a heartbeat.  He would put about $20,000 to $30,000 into it, lots of labor, and resell it for $240,000.  That would work, but believe it or not, this kind of investment does not exist.  There are homes like this, but the owners want $240,000 for them now, and that leaves no room for investors to profit.  Unlike many areas in the country, the bottom of the Sequim real estate market never fell dramatically.

Sequim Investors Disappointed
While this news has been disappointing to Sequim Investors, it is actually a sign of stability and strength in the Sequim housing market, and this bodes well for sellers as well as buyers.  Buyers won't find the steal of the century here, but they will buy a home in a stable market and that is a good thing.  Sequim investors may have to look to Vegas or Phoenix to investor their money, and even that will be fraught with significant risk.
Last Updated on September 4, 2011 by Chuck Marunde