How to sell a home in this market is the $64,000 question these days.  Many claim to know how.  Some know what used to work.  Only a few have bridged the gap from the old to the new world of marketing.  Technology and the Internet have changed everything in real estate, but not everyone knows.  Buyers know, but sellers mostly do not know.  Buyers are doing their research on the Internet, but sellers are not.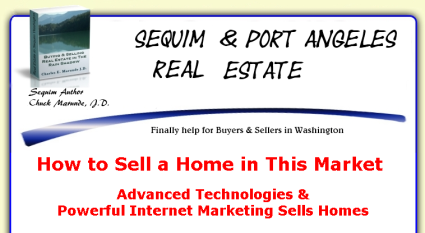 How to Sell a Home in This Market
The real estate industry is in the midst of extraordinary change. There's no doubt about that. The real question for real estate agents and brokers is what to do about it. The changes have been so dramatic in such a short period of time that the vast majority have been caught flat footed.  Tens of thousands of agents around the country are looking for a new business model and the tools to implement a solid strategy that will help them not only survive, but thrive in the years ahead.  From "The New World of Marketing for Real Estate Agents" by Chuck Marunde

How to Sell a Home in This Market with Powerful Technologies
Many people know that print advertising and other traditional marketing techniques no longer sell homes as they once did, but few know the technologies and Internet marketing strategies necessary to connect with buyers from all corners of the U.S.  Chuck Marunde has been quietly working on this since 1995.  For the first time, he will reveal his secrets publicly.
How to Sell a Home in This Market for Homeowners
On June 11th Chuck will hold a seminar entitled How to Sell a Home in This Market at the Sequim Library at 6:00 to 8:00 p.m.  Seating is limited so anyone interested in attending should register online right away.  The seminar is free for Sequim homeowners only.  Some of the topics covered include:
How to bridge the gap from the traditional approach to the new world of marketing.

Discover what new marketing techniques have replaced print newspapers & magazines.

Find out the deadly sins that almost guarantee you won't sell your home.

Learn how to connect with "qualified buyers."

Learn how to price your home to sell (that doesn't mean keep reducing the price).

Learn how buyers think today.

Learn about the importance of social media & other technologies.

Find out about search engines, SEO and how buyers search for Sequim homes.

Learn the truth about what marketing techniques work and which ones do not.
Register online for this seminar now at How to Sell a Home in This Market.