Today I took clients on a Sequim home tour.  I showed four houses in Sequim and two in Port Townsend.  I thought you might enjoy picturing what we experienced.  It was a lot of fun.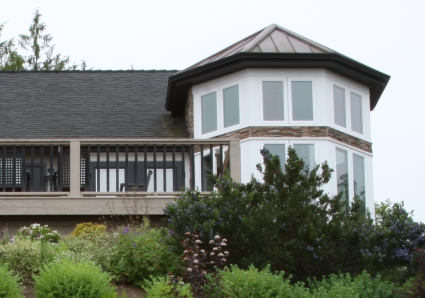 Sequim Home Tour of Luxury Homes
We started our Sequim home tour with two Port Townsend homes.  (Very funny Chuck!)  Both were on high bluffs with big water views.  The first one was listed just below $800,000, although it had originally been listed north of $1 million.  The house is two levels with all the bedrooms on the second floor.  The kitchen was a custom designed kitchen, although it didn't have many cabinets.  Part of the kitchen design was the open shelving concept.  The back yard was beautifully landscaped.  Unfortunately, the site plan and the house design did not fully capture what was otherwise a million dollar water view.  Homes must be built at a minimum 100 feet from the bluff, and sometimes because of forage and topography and a narrow lot, that means the water view from the house is a fraction of what it is if you stood on the bluff itself.  My clients felt the home was nice but not worth the $800,000 plus the owners are asking.
Sequim Home Tour of Water View Homes
The second home was also on a high bluff, but it sat back about 250 feet from the bluff, which was 300 feet straight down.  Because it is a narrow lot, the water view from this home was quite limited.  Again, it felt like a waste of an extraordinary water view.  One cannot help but think, "If I'm paying a couple of hundred thousand for a water view, it really ought be be pretty impressive."

The third home in our Sequim home tour is also on a high bluff, but this home was designed and placed in such a way as to capture that million dollar water view.  The home itself is an architectural masterpiece, and it is all on one level, something most retirees love.
The fourth home, also in Sequim, is not on a bluff, but does sit high above Sequim Bay with an extraordinary panoramic water view.  This home was designed by the owners and built by a master craftsman.  The kitchen is one of the most extraordinary in the Sequim area, a Chef's dream.  At $1.1 million this home is one of Sequim's finest luxury homes.
The next home in our Sequim home tour was on the beach of the Strait of Juan de Fuca with no bluff.  To be able to walk out your back door and onto the beach is pretty darn cool.  Of course, the entire beach side of this home is designed with large windows and has stunning 3D water views.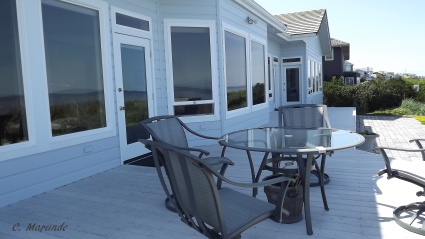 Sequim Home Tour Ends With Airport
The last home we toured also is on a Sequim bluff, but it's not as high as the others.  This bluff is 100 feet high, and the water view is actually greater than 180 degrees.  Very impressive, but this location is more windy than most.  The owner said you have wind about 30%of the time.  This home also has access to a private airport.  Sequim has a higher than normal share of retired commercial airline pilots who flew over Sequim for decades and became quite familiar with the Sequim Rain Shadow from personal experience. 
What will my clients decide?  That remains to be seen, but it sure was a great day for a Sequim home tour.
Last Updated on June 2, 2012 by Chuck Marunde