How will the government shutdown effect real estate? Since many buyers will apply for a government insured (FHA) or guaranteed loan (VA), those buyers and their sellers will likely see delays if the government shutdown continues. But there's a bigger problem for all loans, including conventional loans. The IRS is shut down.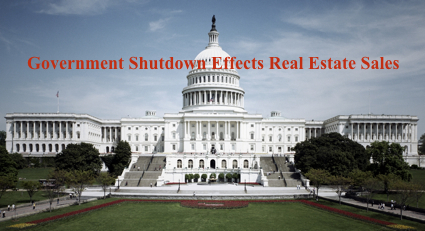 Government Shutdown Effects Real Estate Sales
One of the ugly results of the government shutdown is that the IRS is closed and has suspended the processing of all forms, including requests for tax return transcripts (Form 4506T). While FHA and VA do not require these transcripts, they are required by many lenders for many kinds of loans, including FHA and VA, so delays in getting housing loans approved are likely if the shutdown continues. This is not good news for buyers or sellers.
The government shutdown means the Social Security Administration is closed and has suspended most customer service functions. According to the SSA Contingency Plan, verifying Social Security numbers through the Consent Based SSN Verification Service will also be suspended during the shutdown. HUD's Contingency Plan states that FHA will endorse new loans in the Single Family Mortgage Loan Program, but it will not make new commitments in the Multi-family Program during the shutdown.
Government Shutdown Rules Relaxed
Some lenders are saying that the procedures that normally require certain government cooperation will be relaxed in certain cases, so not all loans are adversely effected. Clearly one of the biggest problems with the government shutdown is that income verification with the IRS cannot be done. The last thing a struggling real estate recovery needs is a shutdown that kills loan processing. Let's hope our politicians get their act together and end this government shutdown soon.
Last Updated on September 20, 2019 by Chuck Marunde