"If you get, give: if you learn, teach," is a quote from Dr. Maya Angelou who was a remarkable woman, an author and a civil rights leader. She died last year at the age of 86. Why do I quote her on this real estate blog? Because her philosophy and the way she lived her life echoes my beliefs about how I work with real estate clients, and how I live.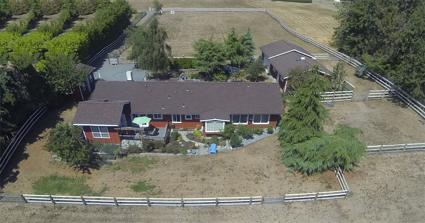 Dr. Angelou also wrote, "My mission in life is not merely to survive, but to thrive; and to do so with some passion, some compassion, some humor, and some style." This statement describes how I live every day. I may be lacking in humor, but I am passionate and compassionate, and I hope along the way I have a little style.
If You Learn, Teach.
I recently helped a buyer purchase the home in this photo. This 3 bedroom, 2 bath single level home is about 5 miles outside of Sequim on a little over 2.5 acres, all fenced and with a couple of outbuildings, including two beautiful horse stalls. The back deck faces south, and what a peaceful spot to enjoy a cup of gourmet coffee and the Sequim sunshine. There's an irrigation system for outside watering and a pond on one end. At $385,000, this buyer is not just pleased–he's giddy. This is what I do. I teach buyers how to buy and guide them through the entire process. I'm a buyer's agent.
Another favorite Dr. Angelou quote is, "Courage is the most important of all virtues, because without courage, you cannot practice any of the other virtues consistently." When I first read this quote, it really hit home for me. A person might work hard regularly, and might be honest most all the time, and generous at times, but it takes courage to practice these virtues consistently. 
Teach and Give.
I find that my own daily practice takes all my emotional energy, because I pour myself into my client's best interests, and that often means working from morning 'till night, and often seven days a week. But I love what I do, mostly because it helps improve the quality of my clients' lives, and that is why I teach and guide buyers. It is my gift and my pleasure.
Last Updated on September 7, 2019 by Chuck Marunde