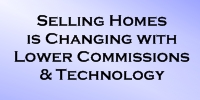 If you are selling real estate in Sequim or Port Angeles, are you aware of the dramatic changes taking place in real estate brokerage?   The way   real estate is being sold is changing.   Do you know that across the United States traditional full commission brokers are struggling to survive (many are going out of business) and new models with flat rate or discount commissions are springing up everywhere?   Why?   First, consumers are tired of high commissions and second, according to consumers, they are tired of so-called "full service" brokers who are actually "full commission" brokers rather than "full service" brokers.   This is not coming from me, it's coming from consumers all over the country.
Inman News, a major national real estate news service, has been conducting surveys on the issues of commissions and the evolving nature of the real estate industry.   Real estate professionals and consumers all over the country have been involved in this survey, and here is what they are saying. (The quotes are from the Inman summary.)
The traditional brokerage model ends up costing home sellers too much money because there are too many people involved (selling side broker and his agent, buying side broker and his agent, and assistants, secretaries, etc.).   "Too many parties are involved in the real estate value chain — directly or indirectly earning sales commissions, in some cases disguised in fees. This adds expense to the transaction, discourages sales in a low-inflation housing market and creates confusion for the consumer."   See Inman Summary.
The effective use of technology (most agents and brokers are not technology savvy) can eliminate massive overhead that translates to lower commissions for consumers.   "Technology adoption allows for agents and brokers to conduct business virtually, and can eliminate the expense of office space. Online home-shopping tools can help consumers narrow the focus of their home searches even before contacting an agent."
The traditional brokerage model is broken.   I've been writing about this for a couple of years now from several perspectives, all of which are focused on the best interests of the consumer, not the Realtor.   "The current broker model is in disrepair and should not be fostered by broker inaction and industry enablers."
The big brick and mortar real estate brokerage is top heavy and consumers are just not willing to pay for all of that with huge commissions, especially when it all boils down to one professional agent who knows how to sell a home.   Consumers don't hire a building.   They don't hire a huge staff.   They hire one agent, and they expect that one agent to market and sell their home effectively.   Technology and the tools available to consumers has reduced the value of large buildings and expensive conference rooms.   "Brokers who run "body" shops — warehousing agents, no matter the skill level, in massive offices — must slim down their agent pools to the best and brightest. This is for survival's sake. Those brokers who provide true value in their services will have an easy time recruiting quality."
For a decade top producers around the country have been saying that print advertising is not as effective as it once was to sell houses.   Over 80% of all home buyers start their search on the Internet, and print advertising has gotten ridiculously expensive and less effective at the same time.   Advertising open houses in the newspapers is not effective either.   Open houses don't sell houses (only 1% to 2% of homes are sold at open houses).   Open houses are lead gathering opportunities for the listing agent, and do not benefit the home seller.   "Wasteful advertising spending also contributes to the cost of the transaction and could be minimized by improved measurement around successful online ad investments. Agents should be encouraged to adopt social media and mobile technologies into their businesses to communicate more instantly and transparently with consumers."
A logical question for any Sequim or Port Angeles home owner who wants to sell their home would be, "Okay, Chuck, so what are you?   A full commission broker or a discount broker?"   I am a full service broker who does NOT charge a full commission.   I could talk for an hour on this topic.   My business model puts clients at the center of everything, and I use technology more than any other broker in Sequim or Port Angeles, but the big point is I only use the most effective means to market a property.   I don't waste money or time on ineffective tools just to try to impress clients.   How's that for blunt and honest?   If you are interested in details, email me, and I'll be glad to share everything openly and honestly.
Chuck Marunde, J.D.
Broker/Realtor
Sequim & Port Angeles Real Estate, LLC
Real Estate Website:   SequimPortAngeles.com
Real Estate Blog:   SequimRealEstateNews.com

Last Updated on February 27, 2009 by Chuck Marunde