You've probably seen the online advertisements by Home Title Lock selling home title theft or home title fraud protection for your home for a monthly fee. You may have seen Sean Hannity promote Home Title Lock, or Newt Gingrich, Ben Shapiro, Rudy Giuliani, Bill O'Reilly, Glenn Beck, or Mark Levin. Even the good Dr. Steve Turley does a full video endorsing this service and company, and he is paid to endorse them on his Youtube channel. Of all people I respect for their intelligence, objectivity, their discernment, and their ability to recognize a sales pitch of dubious value, Mark Levin and Steve Turley should know better. But the others should know better, too. They all have either videos or various endorsements on their shows, podcasts, or online where they boast about the value of Home Title Lock services, how you could be defrauded, too, and why you should sign up and starting paying a monthly fee for protection.
Let's be clear. All of these people are being paid to endorse Home Title Lock or they would never take the time and effort to do so with such glowing recommendations. Let's face it, Bill O'Reilly wouldn't give them the time of day unless he is getting paid handsomely. But let's also be clear about these endorsements. None of them have done their homework on the company they are endorsing, nor the efficacy of the service for home title fraud.
In this article, and in the upcoming video, I will show you the homework they should have done before they took the money and endorsed this product, and I'll tell you exactly what a legitimate title insurance company's position is, and I'll tell you what a real estate attorney has to say about the potential for fraud and the so-called fraud protection. In all my research, I found no articles online like this article with an objective, educated, and competent review and analysis. So let's get into it.
Let's get something out of the way quickly. I am not getting paid to write this review by anyone, but I may be the only one not getting paid on this subject. Home Title Lock is doing a tremendous amount of advertising, and whether they pay their endorsers in money up front or on some other basis, including affiliate fees, all those endorsements are motivated by money. I am not. I am motivated by a desire to guide consumers and all my clients in their real estate affairs, and that includes not only making wise decisions, it include avoiding unwise decisions, which means not wasting money on products or services you don't need.
Home Title Lock is the name the company uses on their website. The home page relies heavily on the good reputations of the endorsers as you can see with their photos filling most of that home page.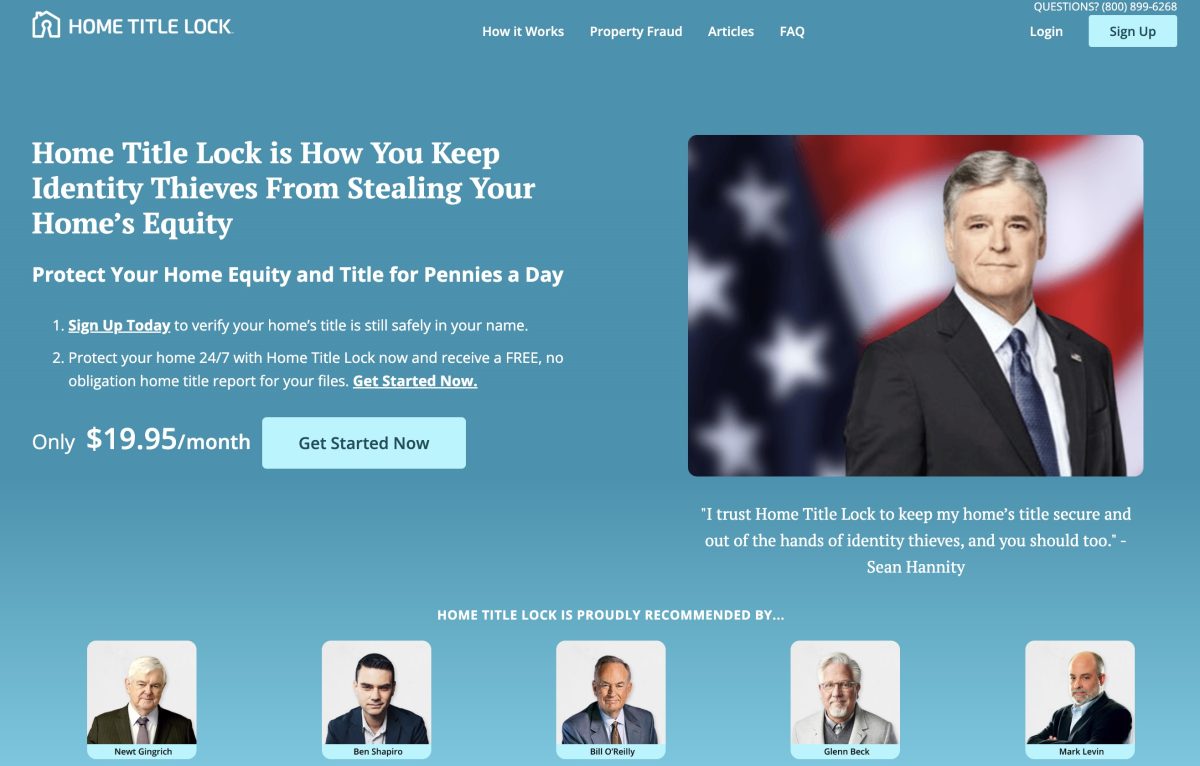 The company address on the site includes a Florida address, but the state of primary registration is California, and in California the official name is "Title Lock Corporation." The corporation was started by a man maned Harish K. Chopra, and it was called Data Tree, with a business focused on collecting data and apparently at some point Chopra found a use for that title data with what morphed into title fraud or title theft protection. Chopra sold Data Tree to First American Financial Corporation in 1998, but Chopra stayed on to run the company.
An examination of the California Secretary of State records as of this date shows that Chopra is the Chief Executive Officer, The Chief Financial Officer, The Secretary, the designated Agent in the State of California for service of process, and he is listed as the only Director. I assume he also answers the phone and takes the garbage out. As for Chopra's background, I couldn't find any helpful information. The information on him is scanty and there is no impressive resume as you might expect or hope.
Dr. Steve Turley produced a Youtube video in which he interviewed a spokesman for Home Title Lock by the name of Matthew Cox. I could not find what Cox's relationship is with Home Title Lock, whether he is an officer or a salesperson or an equity owner or a paid affiliate. I can't imagine that he is promoting the company without compensation. 
Who is Matthew Cox? He is so famous, Wikipedia has a full article about him:
Matthew Bevan "Matt" Cox (born July 2, 1969) is an American former mortgage broker and admitted mortgage fraudster. Cox, also a true crime author, wrote an unpublished manuscript entitled The Associates in which the main character traveled the country to perpetrate a mortgage fraud scheme similar to the one Cox ran.
Cox falsified documents to make it appear that he owned properties, and then fraudulently obtained several mortgages on them for five to six times their actual worth. He acquired millions of dollars this way; estimates report the amount at between US$5 and $25 million. Cox's first conviction occurred in 2002 when he was sentenced to probation for mortgage fraud. He was then fired from the mortgage broker position he held in a Tampa, Florida area firm. He began his life as a dedicated criminal in central Florida after that offense, before fleeing the area when his activities were discovered. His crime spree continued across the southern and southwestern United States, eventually landing him on the United States Secret Service's Most Wanted list. He was aided by several female accomplices, some of whom are in prison or have served time there for their participation in his fraudulent mortgage practices. Cox was arrested on November 16, 2006. Indicted on 42 counts, and facing prison sentences of up to 125 years, he plea bargained his sentence down to a maximum of 54 years on April 11, 2007, and was sentenced to 26 years on November 17, 2006. He was released from prison in July 2019.
According to an article in the Tampa Bay Times published April 10, 2007, "His favored scheme, according to court records, was to purchase rundown properties, artificially inflate prices using fraudulent appraisals, then supply invented credit information to straw buyers, or proxies, who obtained loans far more than the value of the mortgaged properties." [Source: Fraud Leader Had a Lot of Help]
Because of people like Matthew Cox and because of the mortgage debacle and real estate crash that started around 2008, many Federal and State laws were enacted to protect consumers, and regulatory checks were put in place to make sure mortgage fraud is nearly impossible now.
You can read the actual indictment with all the allegations at Matthew Cox Indictment. It's pretty ugly, and honestly, when I read through this as a former real estate attorney, I could not help but think this person must not even have a conscience. You'll see what I mean if you review it yourself.  The final judgment is only available online through a payment to the Pacer database. 
Let's be open-minded. Matthew Cox may have repented, and perhaps he is a fully rehabilitated criminal who is now honest and wonderful. That could be, and I acknowledge that. I'm just reporting the facts in this article, and they are not pretty. If you ask me if I would trust what he says today, the answer is no.
It's just a little ironic, or perhaps I should say moronic, that the man who was a criminal committing fraud is now trying to sell a service to you and me because he claims others can commit the fraud he committed for a whole career. Here's the rhetorical question. Can I trust him? Should I trust him? Why would I trust him?
I shared already that First American Financial Corporation bought Data Tree, now Home Title Lock, in 1998, but there is a skeleton in the closet you probably should know about.
"In May 2019, KrebsOnSecurity broke the news that the website of mortgage title insurance giant First American Financial Corp. had exposed approximately 885 million records related to mortgage deals going back to 2003." [Source: KrebsonSecurity] You can read the article yourself.
So the parent company of Home Title Lock was involved in a massive breach of real estate records? Yes, in 2019. That's not very long ago, is it? Well, let's not jump to conclusions about the title fraud protection service. Let's dig in and ask a substantive question, like, "Is home title fraud protection needed?," or "Is home title theft protection needed." Or in plain English, is this kind of theft really a thing?
Wendy Siegelman, an independent journalist, referred to an article that is no longer online in her original Tweet, "This Aug 2020 article about Home Title Lock cites a real estate attorney who says title theft is 'not a thing. . . It's a marketing ploy to sell this insurance that really isn't insurance.' It's a monitoring service that can be done by anyone for no cost." [Source: Wendy Siegelman]
I called the most knowledgeable and experienced real estate title officer I've know in 40 years in real estate, and discussed title theft and title fraud protection with him, and his conclusion in my words was that it's just a gimmick, a ploy, and that it's not really a legitimate service that protects people's titles.  Of course, home insurance and title insurance do not protect you against someone who would commit the kind of fraud that Matthew Cox was committing back in his hey day.
I've been in real estate going back to the mid-1970s when I started as a real estate agent, and along the way I went to law school and practiced as a real estate lawyer for 20 years before retiring and transitioning back into real estate transactions as the founder of iRealty Virtual Brokers, which is the hat I wear today. So as an experienced real estate attorney, I continued my discussion with this senior title officer and we unpacked all the title issues, fraud issues, and how one would legally clear up the mess if the fraud was consummated.
First, you might want to know what's involved in committing this kind of title fraud, where someone transfers someone else's home title to their name and then tries to sell the property or obtain a mortgage on the property so they can withdraw money from a bank account and disappear. Here's a brief summary of what they would have to do. How hard is it to do, and what hurdles would they have to get over to actually get their hands on real money at the end? Let's take it a step at a time.
The criminal would have to prepare a Statutory Warranty Deed or at least a Quit Claim Deed, and he could get the information for that by pulling up a copy of the last deed from the County Auditor's online records. But then he has to sign it in front of a notary public, and the notary stamp issued by the State must be used on the original deed. He could obviously sign his own name or forge one on the deed, but every State now requires an application to obtain a notary license and stamp. Many states require a course and proof that you are who you say you are, and you can only order a stamp after you have been issued a notary license and certificate by the state. Could a forger get a stamp without a state issued license or fake that? It would be a very involved and complex process, but that's certainly possible, but realize at that point he has committed a felony fraud for which he could spend time in prison.

Assuming he commits that fraud, he then has to record the deed, but before he can do that, he must go to the Tax Assessor's office in the county and complete an Excise Tax Affidavit in which he swears he is the seller, and he must pay an excise tax (1.78% of the alleged sales price in Clallam County, WA) before the assessor's office will stamp the documents for approval to be recored at the Auditor's office. If the criminal tries to tell the assessor he only paid a small price, substantially less than the current assessed value on the assessor's records, everything will come to a halt. The tax assessor will not allow someone to defraud his office of the excise tax that is owed. The tax is typically based on the sales price, and so the criminal defendant would have to pay a substantial tax before he could record the deed. If he hopes to get a loan on a $500,000 home, he's going to have to come up with $8,900 in Clallam County, Washington, and a lot more in California counties. Only after he pays that excise tax can he record it in the Auditor's office. The Auditor will not record it until that tax has been paid. So pause here to realize that today trying to commit this title fraud would not work, because no criminal is going to come up with thousands of dollars to record a fraudulent deed, because he is far from getting any money out of the property as you will see next. By the way, don't think he can skip the tax assessor's office and just record the deed. The Auditor will not record a deed that is not approved in the computer database by the tax assessor.

If he paid the excise tax and did record the deed, which is extremely unlikely, he has committed another felony for which he could be imprisoned. But assuming he did, what would he do if he wanted to sell the property to a buyer? He would have to advertise it to find a buyer, right? He's not going to put it in the local MLS (multiple listing service), or he gets caught in a heartbeat. All Realtors would see the home and want to show it and start calling the real owner. Okay, so the criminal doesn't list it in the MLS. Let's say he posts it on Craigslist. The buyer contacts him at his email or phone number, and the buyer wants to walk through the home. Oops! That's not going to work either as the seller lives in the home. If the home is vacant, the criminal would have to show it by breaking in presumably. Do you think the buyer might notice?

Let's say the buyer doesn't suspect anything and offers to buy the home. They have to buy with cash, because applying for a mortgage would trigger more insurmountable problems for the fraudster, which I'll share below when I explain the trouble with obtaining a mortgage. Since the buyer must pay in cash, this eliminates roughly 9 out of 10 buyers in most markets. It's getting harder for a criminal to sell a home this way.

The buyer asks the criminal if he has a purchase and sale agreement, which he presumably would have by now. But the buyer needs title insurance, so they will want to deposit earnest money at the escrow company and hand the signed purchase agreement to the title company, too. Oh oh! The title company searches the title and finds a questionable transfer.

As standard operating procedure, the escrow company requires the current owner sign an escrow agreement, and there are more requirements and communications between the title plant and the escrow department before final closing papers are signed. The title company will find problems, including the unpaid underlying mortgage which is still in the real owner's name. There are more hurdles here, but you get the point.

Let's say the criminal wasn't going to try to sell the home, because that's pretty much impossible. Let's say he's going to go get an equity mortgage and open an account where the loan funds will go, and then he would plan to withdraw funds from that new account. First, he has to qualify for a mortgage or an equity loan based on his credit report, his job history, and three years of tax returns. He has to have validated personal ID. In addition, the mortgage company will send an appraiser to the home to appraise it and write a formal appraisal report. That will be a problem if the current owner is living in the home. You can see a criminal will have trouble getting a loan, either because he won't personally qualify for the loan, or appraising the home will blow the criminal's scheme wide open.

I could go on an on as a real estate lawyer about why committing this kind of title fraud today with our updated real time public databases, and all of the checks and balances our title industry and government agencies have in place, but I think you get the point. Successfully committing this kind of fraud today would be harder than many other frauds that are popular, like identity theft where people steal month directly from a bank account, or credit card theft. There are a thousand easier ways to commit fraud and steal people's money. It is ridiculous to suggest that every homeowner today is under a high risk or minimal risk of title fraud.
Let's take the last big step in this scenario. Let's assume a criminal jumps through all the hoops above, pays the excise tax, and beyond all realities, obtains a mortgage and runs off with a chunk of change. What recourse does the true homeowner have?
The Remedy Alleviates The Need for Title Theft Protection
It's not that complicated, and this is the easiest answer in this entire mess. The homeowner could hire a real estate attorney, who would sue the criminal, who would not even defend himself, and a judge would quickly set aside the fraudulent transfer and set aside any fraudulent mortgage. The homeowner's title would easily be protected by a Superior Court. The whole legal process would be pretty simple, because there would be no one putting up a defense. A mortgage company's fraudulent recorded deed of trust on the property would be set aside. Even so, if some mortgage company was stupid enough to extend a loan on the property without doing their normal due diligence, they would not worry anyway, because every mortgage company pays a premium for mortgage insurance when they close on the loan, so they would be paid off. 
The homeowner might pay the attorney $5,000 or perhaps a little more, but the whole legal procedure is something I could have done as a real estate attorney with one eye covered and one hand tied behind my back. 
But again, title theft or title fraud today is extremely unlikely and so improbable and so complicated and uncertain, criminals are going to seek the many other easier ways to steal money from people.
I want to be clear about Home Title Lock, aka Title Lock Corporation, and whether they are committing fraud themselves with their product. The answer is they are NOT committing legal fraud. If you read their material and listen to the carefully articulated sales pitches and what Matthew Cox says, they tell you everything. As low as the risk is of title theft occurring to the average homeowner, it is still a risk. If the statistical probability of it happening is 1/100th of 1% (or whatever it might actually be), it is legally a risk. They tell you what you are paying for, and this is still America where you can sell your product or service to anyone who will cough up the cash money. My own conclusion after researching the company, its history, the people, and examining the legal risks and remedies is that homeowners don't need home title theft protection like this product. 
So next time you hear Dr. Steve Turley or some other famous person endorse title theft protection, text them or leave them a Youtube comment and set them straight. Show them this article if you want. Okay then. I feel better getting all that off my chest. How about you. Do you feel better, too? 
Last Updated on March 27, 2023 by Chuck Marunde