I've represented many retirees from California and around the country recently, and the number one question among retirees has been, "Is now the time to buy a home, or should we wait?"  The question is understandable.  The housing market is still in disarray around the country, especially in places like Las Vegas where it is said that 70% of the homes are under water (the mortgage balance is greater than the fair market value).  The economy sends mixed signals from week to week, and the stock market seems to lack fundamental direction.  Retirees can't get straight answers from their investment advisers on what is going to happen to their retirement funds.  The stress in all of this is largely caused by the uncertainty.  What does the future hold?  Is now the time to buy or build a home in Sequim or Port Angeles?
I don't have a crystal ball, and I'm not the seventh son of a seventh son, but I would like to share the collective wisdom of many retirees who have gone through this process and ultimately made a decision, some to buy and some to wait.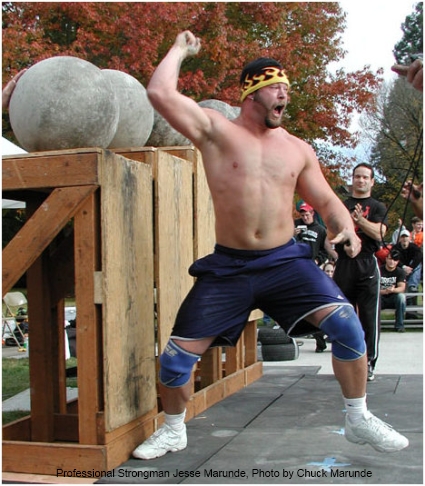 This is a photo of my son, Jesse Marunde.  I took this photo at a strongman contest years ago.  Jesse became the second strongest man in the world when he took second place in Chengdu, China at the World's Strongman Contest.  Jesse was my first son, and I spent a lot of time nurturing him as a young man and later encouraging and supporting him as a pro athlete.  I traveled to events as his photographer and biggest cheerleader.  I helped him learn how to talk on the microphones during events and how to develop his business plan.  Our garage never had a car in it–only weights and strongman implements.  We were very close, and I was always deeply proud of him as his father.  Two and a half years ago while working out in our Sequim gym, Jesse had a heart attack and died suddenly.
Why do I share this with you in the context of your planning to retire, move to Sequim, and get on with your life in the midst of great uncertainty?
When my son died, it shook my world.  Losing someone you love is hard, and it puts some things in perspective.  One of those things is that we don't have forever.  I don't have forever, but even those I love don't have forever.  Another thing that is put in perspective is that life isn't about money and things–it's about relationships.  Take away all my things, and I'll start over.  Yes it would be difficult, but a man does what a man has to do, right?  But take away the ones I love most, and you take my heart and purpose for living.
Retirees are telling me that they don't know what the future holds, they are uncomfortable with the uncertainty, their retirement funds are way down, they may not be able to sell their homes where they are at now, but . . . and here is where many retirees are collectively in agreement, they are saying,
"Look, we don't know what the future holds, and things could get worse, but we are in our sixtys, and we are not going to put our lives on hold forever.  We don't know how much time we have, whether it is 30 years or 3 years, but we want to spend our retirement years together in our dream home in the most beautiful place we could live, Sequim.  We could be wrong on the timing, but we won't find that out for years.  It might turn out our timing to buy now is perfect.  But we aren't making our decisions based on the so-called experts' opinions or the condition of our retirement fund.  We are making our life decisions now based on what is best for us, and whether that turns out to be good or poor timing is just further down on the checklist for us.  We're not going to live our lives in fear.  We are going to celebrate the time we have together, and we are moving forward to enjoy our retirement years.  Period."
I think there is wisdom in this approach.  Admittedly not every single retiree thinks like this.  Some need to sell a home where they live now before they can buy a home here.  And some just feel it is best to wait.  That's all perfectly good.  Each person should make the decision they feel is best for their family.  But I also think there is great wisdom in the collective thinking I summarized in the quote above.  I know for myself, I wish I had more time with Jesse before he passed away.  While we like to think we are in control of our lives, our finances, and our destinies, the truth is there are many things we never will control.  People older and wiser than me are suggesting that it is okay to make a decision based on what seems best now, and not to worry about the exact timing.  Life is too short to be controlled by a thousand variables over which we have no control.
Last Updated on July 27, 2012 by Chuck Marunde