La Push beach is a gorgeous stretch of beach on the west shore of the Olympic Peninsula, approximately an hour's drive from Port Angeles and an hour and a half from Sequim.  This is allegedly the beach that was filmed in the famous movie Twilight starring the now famous Kristen Stewart and  Robert Pattinson.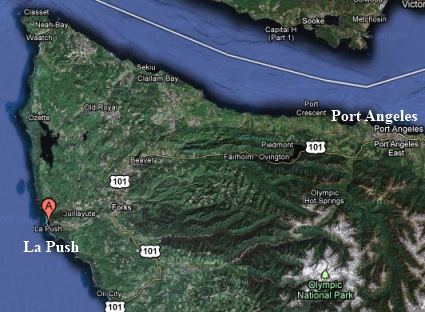 La Push beach is at the mouth of the Quillayute River and surrounded by the Olympic National forests.  If you are a photographer, you'll love the photo opps in the forests, especially when the sun beams are breaking through the thick mossy branches of old growth trees.  La Push is inhabited nearly entirely by the descendants of the ancient Quileute Indian tribe, which is reported to have resided in this part of Washington for thousands of years. The area is well-known for its ocean fishing, and has seen a revival in the past few years. Fish include Coho, Chinook and Silver Salmon, as well as Halibut and Cod.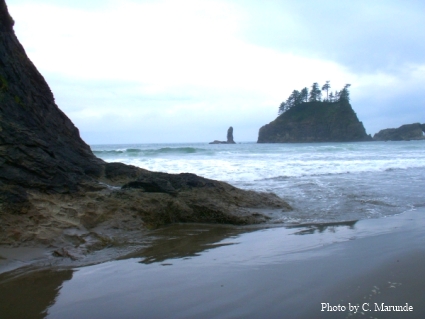 I took this photo on La Push beach on a typical hazy day.  The further you get around the Olympic Peninsula toward the city of Forks, the less sunshine and more rain you will see.  Still it is beautiful, and a great weekend drive.  A part of the Peninsula includes The Flattery Rocks National Wildlife Refuge, which is more than 100 miles long and is home to millions of birds during migration.
You can see why those of us who live in Sequim or Port Angeles love the quality of life here.  There is so much to see and do.
Last Updated on July 27, 2012 by Chuck Marunde