In 30 years I've shown a lot of homes.  I have no idea how many, but I've recognized that there are some common thoughts that run through a buyer's mind as they are looking at homes, and there are some common thoughts that run through a seller's mind when they are told a buyer wants to see their home.
Seller's often worry needlessly about things that do not matter to buyers.   If a seller knew what was important and what was unimportant to buyers, they could prepare accordingly and their stress levels could come down substantially.  So what is important to buyers?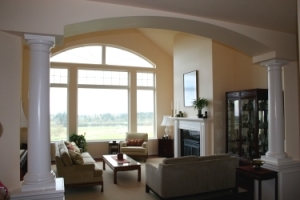 When told by a real estate agent that a prospective buyer want to see their home, sellers often say, "Oh my, the house is a mess.  I need time to get it ready."  Is this important to buyers?  Should the home be spotless for prospective buyers?  The simple answer is no.  Buyers tell me consistently that their order of priority of what is important goes like this:
1.  Location is the first and most important item on their checklist.  The property must be in an area that is attractive to these buyers.
2.  The floor plan is a big one.  Unconventional or weird floor plans just get checked off the list.  When buyers are looking at a home, they are primarily concerned with the home's layout, the minimum number of bedrooms and other features they feel are essential for their comfort.
3.  Of the features that buyers rank the highest, the kitchen, the living room, the master bedroom, and the garage and/or shop are all important, and in that order.
Not one client has ever told me they did not buy a home because the kitchen counter had a wash clothe laying on the coutertop, or because a bed was unmade, or because the living room was not spotless.  In short, buyers are focused on much more important issues than whether someone keeps a super clean home.
Does it help to have a home looking good?  Of course, it cannot hurt, but apart from nice furniture and good staging, where a house ranks on the clean scale is almost irrelevant for buyers.  Could a house be so messy that it turns buyers off?  Absolutely, but that is not what we're talking about here.  We're talking about whether a house should be clean, super clean, or absolutely spotless.  Clean is sufficient.
If your home is not in the buyer's idea of a great location, and if your home doesn't have a floor plan suitable for the buyers, and if your price is unreasonably high, how spotless or how clean your home is becomes irrelevant to that buyer.  This comes not just from the inside of my head, but from hundreds of buyers looking at thousands of homes over three decades.  These rules have proven to be quite consistent.
Last Updated on July 27, 2012 by Chuck Marunde