Sequim assisted living centers are high quality, although not all are the same of course.  Dungeness Courte is one of the best in the area.  Sequim is a major retirement haven in the great Northwest, and the Olympic Peninsula is a beautiful environment with the Strait of Juan de Fuca to the north and the Olympic Mountains to the south.  It's a peaceful setting, and the community thrives with some of the most incredible senior citizens you'll ever meet, including people from all walks of life, some with extraordinary careers and experiences with stories that are fascinating, although you have to pull the stories out of them.  We are lucky to have a number of senior services and Sequim assisted living centers, and we are fortunate to have so many Sequim senior services of such high quality.
Sequim Assisted Living is High Quality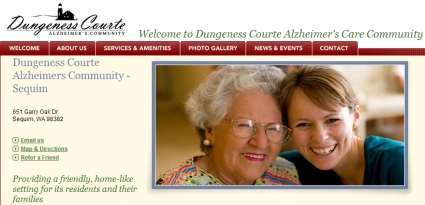 Sequim Assisted Living Centers With Wonderful Nursing Staffs
The staffs at most Sequim assisted living centers is not only highly trained, which you would expect, but also delightfully pleasant and caring.  And some of the centers have volunteers who help.
I have been impressed with the large number and quality of volunteers for almost any subject, club, or hobby you can think of.  Sequim most definitely has more volunteers for worthy and fun activities than any community this author has ever lived in and by an order of magnitude.  What a difference it makes when a club is organized and managed by knowledgeable and experienced leaders, many of whom have been CEOs of large companies.
We are fortunate that there are so many high quality medical facilities in Port Angeles and Sequim, and many high quality centers for assisted living and Alzheimer's.
Sequim Assisted Living is Upbeat and Positive
I've been putting together a directory of Sequim assisted living centers and senior services for the Sequim and Port Angeles area, and while it is a work in progress with constant additions, you can take a peek at what it looks like here.  If you know of a senior service or website that should be added, let me know, and I'll be glad to add it.  I'm adding all sites that are of benefit to seniors, so this will be a fairly comprehensive directory when it is complete.  There are many Sequim Assisted Living Centers and Sequim Alzheimer's facilities.  We also have quite a few seniors who are accomplished athletes and active hikers, kayakers, bird watchers, and just about any activity you can imagine, so the main directory also includes a section for sports and recreation.  The main directory is at:
Sequim Business and Services Directory
You'll find a growing directory for senior services at:
Senior Services, Assisted Living, Alzheimer's Centers, Volutneer Services and Clubs
If you had a choice of where to live, I would recommend a Sequim assisted living center.
Last Updated on July 27, 2012 by Chuck Marunde