Sequim real estate MLS searches and Sequim Real Estate News are available on either the iPhone or iPod (and iPod Touch) or the larger iPad.
Another First for Sequim Real Estate
This is another first for the Sequim and Port Angeles area by Realtor Chuck Marunde.  Chuck is the broker of Sequim and Port Angeles Real Estate, a branch office of eXp Realty, and brings the residents of the area, as well as buyers from outside the area, apps on mobile technology with the power to search all of the real estate listings, the largest real estate blog, sequim real estate videos, real estate market reports, and much more.  Chuck is the only Realtor in the area who brings clients and prospective client this mobile technology and these great tools.
Sequim Real Estate on the iPad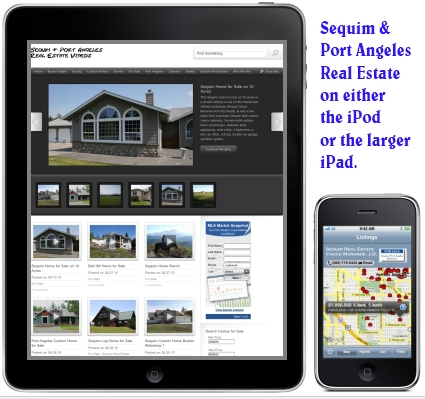 To use the iPhone or iPod app, simply go to the iTunes store and download the only app for Sequim and Port Angeles.  Just type "sequim" and it will come up.  It's called "Sequim & Port Angeles Real Estate."  This app is a free download.  With this app you can search the entire MLS and all listings.
Sequim Real Estate on the Internet
Sequim real estate is something many buyers are searching on the Internet, so this is a powerful tool.  To use the iPad app, just go to the iTunes store on your iPad and search for "MyAgent" (without the quotes) and download it.  When you open it up, it will ask for the password, which is 3523.  This app is also a free download.  Again you can search the entire MLS and all the listings in Sequim and Port Angeles.  Of course, you can read this real estate blog and use our other sites by using your iPad Safari browser (or a great browser for the iPad called "Perfect Browser").  See this Sequim real estate app on the iTunes store on your computer right now at Sequim Real Estate on iPad.
All of this is absolutely free with no registration requirements, making these online resources not just the most powerful for the Sequim and Port Angeles area, but the friendliest and easiest to use.  This is consistent with Chuck Marunde's business model, which is to always and constantly place his clients at the center of all that he does.  This is one brokerage that really does put the client's interest first, which Chuck likes to describe as "client-centric."
"My business mission is to give my clients and my future clients all these incredible tools on the Internet so they can find their real estate, learn what they want to know about the area, and avoid traps for the unwary (having been a real estate attorney for 20 years).  These resources are available 24/7 for anyone to use.  No one offers so much and asks nothing in return.  By the way, a lot of Realtors use this site to help them learn how to market their own listings and reach buyers.  I work hard to prove myself first, and if a buyer or seller likes what they see, they can do their due diligence on me or read my resume.  I'm not afraid of being compared to other Realtors or having the services I offer being compared to the services offered by other Realtors.  Then let people decide for themselves.  But even if they don't hire me, I've given them something valuable and beneficial, and that's a good thing."
Take advantage of these Sequim real estate and Port Angeles real estate Internet tools to find your home or land.
Last Updated on September 2, 2019 by Chuck Marunde