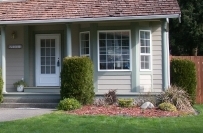 Clients ask me periodically if they should make certain improvements on their home to make it more sellable.  What I've learned from hundreds of buyers who have looked at thousands of homes is that buyers generally do not care if some minor improvements are made.  In other words, it does not impact their decision to buy a home.  Now, if you have a major visual problem, such as a hole in the sheetrock in the hallway or a hole in the living room ceiling, yes it will make a difference to buyers.  A light fixture that is hanging at an angle in the dining room should be fixed.
But if you are considering a major remodel of the bathroom at a cost of $3,500, you will not get that money back from the buyer.  Will it make your home more sellable?  Probably not, unless the bathroom was such an ugly disaster that it would gross a buyer out.  The general rule is that whatever money you put into your home to get it sold is money you will not get back.  If it helps sell the house sooner, then do it, but only if it is cosmetic and doesn't cost much money.
If your home is not the right home for a buyer from out of state, some improvements, other than minor cosmetic improvements, are not going to get them to sign an offer.  If your home is the right home, the right floor plan, the right location, and within their budget, not spending money on improvements is not going to push them away.
You can see that these same rules apply to the methodology for professional appraisers.  They do not add value to a home for the kinds of improvements I'm talking about.  Want to see exactly what goes into a lender's appraisal?  Here are the rules on values and appraisals.
For Fannie Mae, Click here
For Freddie Mac, Click here
For FHA, Click here
Last Updated on January 6, 2021 by Chuck Marunde