The NWMLS is better than the OLS by a long shot for both buyers and sellers. Let me write that without abbreviations. The Northwest Multiple Listing Service is better than the Olympic Listing Service. That's true for buyers, but especially true for sellers who want to connect with high quality buyers who will pay the highest prices.
Local Sequim and Port Angeles brokers who are only members of the OLS, and who are therefore in the minority, will vociferously disagree with me on this, but I'm going to prove it in this article. You tell me if these are not persuasive facts and arguments. 
The Issue of Concern for Sellers
As a seller, which MLS will give you the most exposure to the largest number of highest qualified buyers in order to sell your home in the least amount of time for the highest possible price?
The NWMLS v. the OLS
As the detectives used to say on Dragnet, "Just the facts, ma'am."
The NWMLS has 33,000 member brokers in all but one county (Pend Oreille) in the State of Washington.

The OLS has a membership of a few hundred member brokers in one primary county in the State of Washington that covers Clallam County (basically Sequim and Port Angeles), and extends into Jefferson County (Port Townsend), although the vast majority in Jefferson County use the NWMLS.

The vast majority of brokers in Clallam County also use the NWMLS, and the last time I accessed all the data in both MLSs, well over 95% of all Sequim brokers were members of the NWMLS.

A small percentage, probably less than 5% of Sequim brokers are not members of the NWMLS and only members of the OLS.

The NWMLS is owned and operated by its membership, the brokers, which means they set policy and maintain it, and they govern member brokers' behavior to maintain integrity and professionalism.

A part of that adult supervision comes in the form of standards to govern the details and processes of inputting listings and maintaining them. There are well small fines for repeated violations of the rules by misbehaving brokers. The OLS does not have very many rules. The OLS has some outspoken members who have boasted that the OLS does not have the strict rules that the NWMLS has. I would argue that the kind of adult supervision the NWMLS has for its membership is necessary in the real estate industry. Bad behavior and violations of rules are quite common among less than stellar licensees. Is protecting consumers such a bad idea? I think not.

The main State office of the NWMLS is in Kent, Washington, and it is staffed with a building of dedicated full time employees, who are available with a simple phone call on any matter, including technical MLS matters. They have offices around the state, including Silverdale, only an hour from Sequim.

When I was a member of the OLS, if I wanted help, I had to call an umbrella financial organization in the State of Florida that owned the Paragon MLS system, and getting technical help was problematic. When they answered the phone, they were never sure who I was or what MLS I was a part of. To my knowledge, there are no staffed offices in Washington State.

The software of the NWMLS is far superior to the software of the OLS. There's no comparison, and don't let anyone who doesn't understand software and technology tell you the OLS is as good. Local brokers make that argument all the time, but they truly don't have a leg to stand on. The NWMLS is light years ahead of the OLS.

The NWMLS IDX data feed is far superior to the data feed of the OLS, and the later is always hard to get connected to a new service. The NWMLS feed offers more options and instant technical assistance on the phone from IDX providers. You can compare my NWMLS IDX data fed MLS site at https://sequim-homes.com/ with any local MLS that only has the OLS data feed. The features and options for buyers on my site are better by an order of magnitude.

(If you're a seller, you've got to be thinking, "Why would any seller list with an OLS only broker?," but they do all the time in Sequim and Port Angeles. They don't know, and I'm guessing their listing broker never tells them they won't be in the NWMLS.)

The NWMLS data feed is syndicated to all the major real estate sites, whereas the OLS is not, including many real estate apps that buyers use on their smartphones. As one example, the NWMLS listings show up nicely on the popular Homesnap app and the powerful Homespotter app, but the OLS listings either don't show up on those apps or they show up without full listing information.

The NWMLS is integrated with many other software services that the OLS is not. For example, the NWMLS has a beautiful link within each listing that connects to tax assessor data, a powerful CMA (comparative market analysis) software, an integrated digital signature system for forms, and better ways to organize listings and communicate with buyers and prospects.

The NWMLS has over 100 statewide real estate forms, which are used by pretty much all brokers, and those members of the OLS who are not members of the NWMLS have to subscribe separately to the forms in the NWMLS to be able to use the listings forms, draft offers, and have access to all the associated legal documents.


The NWMLS has extensive market reports for member brokers, and these can be reviewed and linked or embedded elsewhere for public information or to help buyer clients and seller clients. The OLS has some market information, but nothing comparable to the NWMLS.

In order to be a broker member of the NWMLS, you apply for membership and pay a fee and then annual dues. Brokers are not required to be a member of any association, nor are they required to be members of the WAR (Washington Association of Realtors), nor are they required to be members of the NAR (National Association of Realtors).

The OLS is like a union where you cannot as a broker enter listings into the OLS unless you first apply for and pay for membership in the Sequim Association of Realtors or the Port Angeles Association of Realtors, and all members are required to be  dues paying members of the NAR. If you're a person who is forced to pay dues to political purposes you don't agree with because that's how the NAR spends your dues, you logically will question why you are being forced to be a member of a Realtor Association that takes your money and forces you to pay dues to a national association. What does any of that have to do with listing and selling a home in Sequim?
NWMLS Coverage Area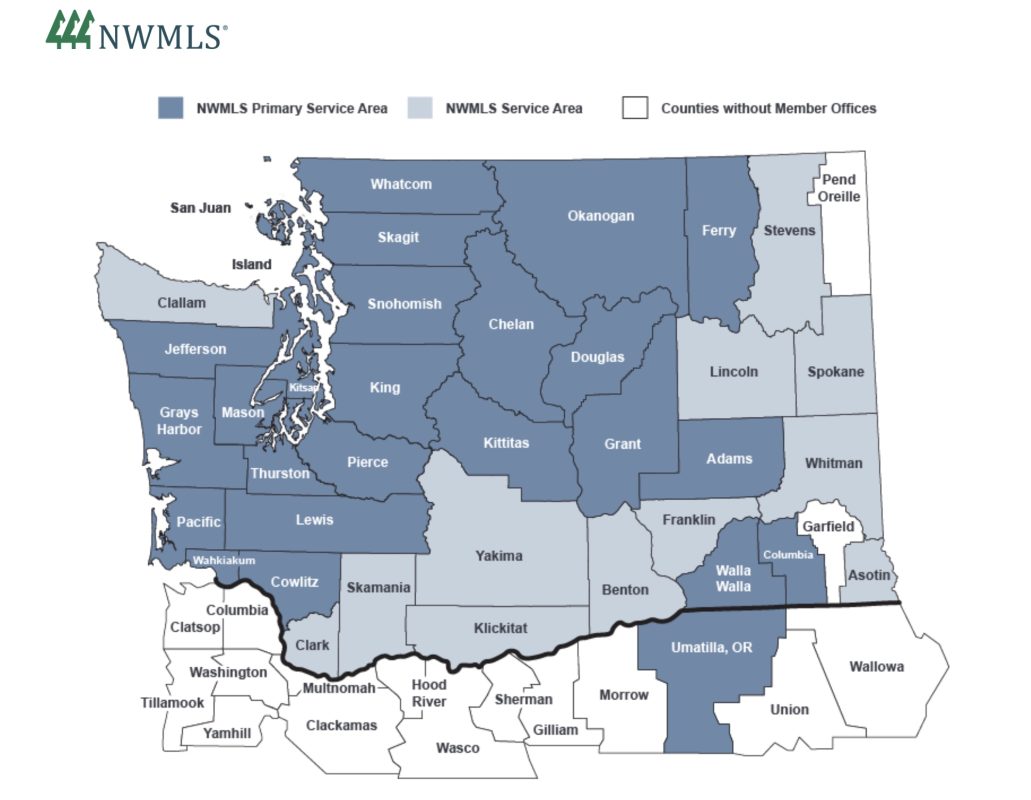 What are The Big Shortcomings for Sellers to Listing in the OLS Only?
Just reading through the bullet list above certainly paints a dismal disadvantage for the OLS compared to the NWMLS, but let's be clear on these disadvantages:
In the OLS a seller's home is only being promoted by hundreds of local brokers with public or corporate MLS sites where the OLS IDX data feed is authorized. In the NWMLS a Sequim seller's listing would be promoted by 33,000 members who have public MLS sites.

The OLS subscription base of a few hundred members would be the only brokers who can see the subscription side of a seller's listing with all the details and attached documents as opposed to 33,000 NWMLS members who would have subscription side access.

This also means that 33,000 NWMLS member brokers would never see a seller's Sequim listing in the OLS MLS, because brokers outside of Clallam County rarely purchase a membership in the OLS. 
What OLS Listing Brokers Are NOT Telling Their Sequim Sellers
Do you think the OLS only listing brokers are telling their sellers these things?
"Oh, by the way Mr. and Mrs. Seller, I'm only a member of the OLS, so your listing will not be in the NWMLS, which of course is the largest MLS in the State with over 33,000 broker members, and which also means your listing will not get exposed to those 33,000 Northwest brokers, nor to all of their prospective buyers."

Among local Sequim and Port Angeles brokers, what are they saying to each other that they are not telling the public or their own seller clients? I have heard brokers repeatedly in past years say, "Well I don't want those Seattle brokers coming over here and selling our listings." That statement always flabbergasted me, because I always thought the job of a listing broker was to sell the home for the client, and to accomplish that you need the broadest marketing possible. When I listed a home, I always welcomed calls or showings or offers from Seattle brokers. Why wouldn't I?

Some local listing brokers have actually made a notation on their listings in the OLS that they will only pay 1% (a penalty from the 2.5%) to the buyer's agent if the buyer's agent doesn't attend the buyer's initial viewing and subsequent inspections. Why? Well, that would appear to be aimed at Seattle or outside brokers, wouldn't it? I recall one local broker saying, "Those Seattle brokers ride their white horses into town on the weekend to show one of our listings, and then they're asking me (the listing agent) if I'll open the house for the home inspector? No, I won't." I sure would. Why wouldn't I?

So is any of this in the best interests of sellers? Absolutely not!
There's a lot of history in this battle between the NWMLS v. OLS, but it's been a battle among real estate brokers. Sellers and the general public have no idea how these things work in the real industry. If you'd like to learn more about that history, you can read an article I wrote back in 2017 entitled "OLS v. NWMLS".
If you want to see the power of the NWMLS on a public site I designed and built using the NWMLS data feed for basic searches, address searches, advanced searches, map searches and extensive market reports all over Washington state, see Sequim-Homes.com. That site also allows you to look at all listings with listing prices that have recently been lowered. That's a fun way to look at listings. There are an incredible set of tools and features on that site, and if you'll browse around and dig deep, you'll find them.
If you want to know what I'm doing to put my money where my mouth is to take car of buyers and sellers, take a look at this new business model offering a flat fee commission service to sellers. The first explanation of this service is found at Flat Fee Listing Service.
Last Updated on August 16, 2022 by Chuck Marunde