Today was a day looking at homes in Sequim.  Two homes rose to the top of the blog list.  The first home has a lot of potential.  The back of the garage is hanging out over a creek.  Obviously, the garage will either need to be moved or torn down.  The county authorities don't actually red flag garages, and there is no requirement that the garage be torn down or moved.  The house is not attached to the garage and sits far enough from the creek bluff so that it is safe.
Homes in Sequim and Rehab
We talk about people needing to enter rehab, but homes sometimes need a little rehabilitation too.  This home is a 1970 home, so you might guess what kind of paneling was used throughout the house.  That's right, that dark dark brown paneling with the vertical lines.  This was also a time when architectural plans did not include skylights or lots of natural light in the home.  It's pretty dark in this home, too dark for most people.  The dark paneling has to go.  There are quite a few homes in Sequim with that 1970's paneling.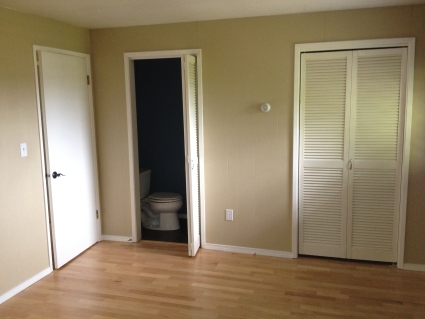 The master bath in this home looks more like an experiment by a creative artist than it does a real bathroom.  The shower is actually a large tile bathtub with shower heads in a wall of tile with no walls.  Or maybe it is an open shower concept with a tile tub that has a four foot radius.  The master bath has to go.
The ceiling is a beautiful wood, all vaulted throughout the home.  Unfortunately, whoever nailed the shingles on the roof used nails just long enough to come through the ceiling.  You have to look hard so that the light reflects off the nails, but they are everywhere in the ceiling inside the home.  That will be an expensive repair job.
The kitchen is in dire need of upgrading.  The back yard has a swimming pool that was filled with gravel.  That must go.  This home would be a good investment if the price were right, but it would really have to be right.
Homes in Sequim and Toilets
The second home on today's homes in Sequim tour was a short sale in a nice area.  Unfortunately, this home is run down and in dire need of maintenance and repair.  That's understandable as a short sale is in the same family tree as a foreclosure.  Owners get behind financially and no longer can afford to maintain the home.
This home also had old paneling inside, but it was painted a light beige color that did lighten the house quite a bit.  But the most fascinating thing about this house and the reason it made today's blog was the toilet installed in the master closet.  You can imagine my surprise and my client's surprise when we opened the master bedroom closet door to find a toilet fully installed.  Not too many things surprise me anymore, but this did.  I thoroughly enjoyed this surprise.
You never know what a day will bring looking at homes in Sequim.
Last Updated on July 12, 2012 by Chuck Marunde