Yesterday I looked for the perfect Sequim property for clients from Seattle.  We may have found it.  Here are the search parameters of the perfect Sequim property as these clients defined it.  Would this property describe your idea of Heaven in Sequim, Washington?
The Perfect Sequim Property:
The land should be in a beautiful area with a little privacy.  A nice view from the home on all  sides is essential.  The view could be a mountain view, a valley view, or trees and a pond or creek.  Of course, a water view would be wonderful, but not if it's too expensive.  A little acreage is important, because these clients want to raise some chickens and perhaps sheep or even a couple of cows or horses.  This means at least five acres and preferably more like six to ten acres.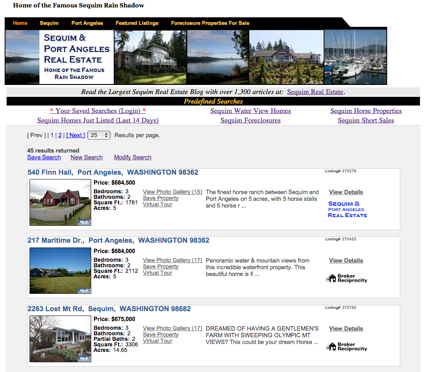 Sequim Property Search
Here's where the search parameters get tough.  The price must be no higher than $375,000.  This price actually is the upper boundary for many buyers lately.  Anytime you add acreage in your search for the perfect Sequim property, you increase the price substantially.  It's hard to find a nice home on five to ten acres, and almost impossible to find a nice home on 20 acres. They are out there, but now you're getting into the $600,000 to $1 million price range.  
Sequim Property with Acreage
Perhaps the best way for you as a buyer to see what is available with five acres plus, is to do an actual search in our MLS.  This link will show you all homes on five plus acres in the Sequim and Port Angeles area from $300,000 to $700,000.  
Sequim Property on 5+ Acres
If you don't find your idea of the perfect Sequim property, don't get discouraged.  Email me and let me know exactly what you are looking for.  Some properties are not listed right now and will either be coming on the market soon, or the sellers got discouraged and just let their listing expire.  With some patience and hard work, we will find your idea of the perfect Sequim property.
Last Updated on September 19, 2019 by Chuck Marunde