A new Sequim horse property is on the market, and if you own horses or have always wanted a mini-farm, this should be on your Sequim horse property list.  You'll want to look at my full listings of all Sequim horse properties.  Three of these are my listings, and I'm familiar with many of the other listings, which means you can email me or call me if you have questions about any of the properties on this list:  Sequim Horse Properties.
Sequim Horse Property with a Mountain View
This photo almost looks like a painting, but it is the view from one side of this 15 acre horse ranch only a few miles from Sequim.  A photo of a mountain view never really captures the majesty of what you feel when you are standing there.  This view is looking south toward the great Olympic Mountains.  This photo was taken from the deck of the house and you will never have to worry about your view being blocked.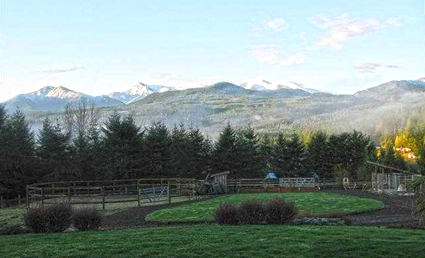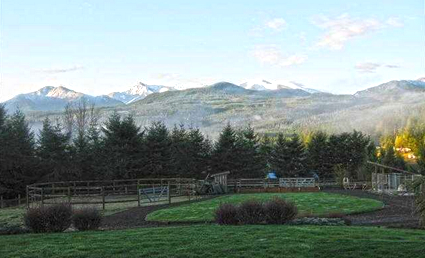 Sequim Horse Property – Modern Architecture
This is a beautiful home, and you've got to peek at some of the photos.  To look at the photos and learn more about the features of this Sequim horse property, go to Sequim Farm.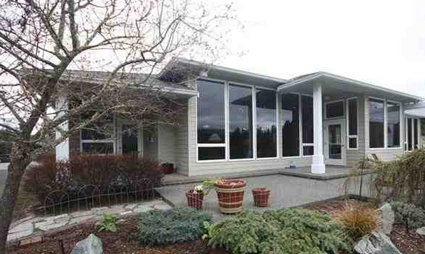 Sequim Horse Property with Barn and Wine Cellar
The fields are fenced and if you don't have too many horses, you can graze about eight cows and make enough from selling the beef every year to pay your property taxes.  There's a large greenhouse where you can grow organic vegetables, and the pond has trout in it.  There's a horse trail into the hills a short quarter mile walk from this property, although you do have 15 acres to ride on.  The kitchen is something out of "Homes & Garden Magazine."  The fist time you walk through this home, you'll probably do what I did.  You'll be speechless until you finally get your breath.  Come to Sequim and let me show you this special Sequim horse property.
Update: This property has been sold, twice.
Last Updated on September 19, 2019 by Chuck Marunde