Mortgage rates are headed upward. There's no doubt about that. I'm no seer or son of a seventh son, but I have been predicting that mortgage rates would begin slowly going up. I just couldn't predict precisely when they would begin to return to normal levels, which means higher levels. As you probably know, we've been at a 50 year historical low in mortgage rates. As you can see in this chart, mortgage rates are, in fact, increasing.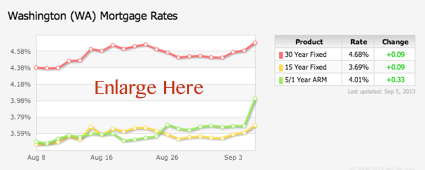 Mortgage Rates – What it Means
When mortgage rates go up, you're monthly payment increases. On August 9th the 30-year fixed mortgage rate was 4.38% and today the rate is 4.68%  On a $300,000 mortgage with a $40,000 down payment that means in just the past month the rate increased so that your mortgage payment would go up by $50.00.  When (not if) the rate goes to 4.98%, your monthly payment increases by $103.00. You can see how your mortgage payment will be effected and calculate your own monthly payment at Sequim Mortgage Rate Calculator.
Mortgage Rates – Prequalify
I recommend you prequalify before you start looking at Sequim homes or Port Angeles homes. You can do that even before you arrive in the area by going online and contacting a local mortgage broker I know and trust. All my clients rave about his professionalism, knowledge, his customer service, and his integrity. Just go to Sequim Mortgage Broker.
You can look at the current mortgage rate for today by going to Sequim-Homes.com and scrolling to the bottom to look at the chart. Click on that chart and it opens up into an interactive chart of current interest rates. Not to put any pressure on your buying decision, but if you are going to buy, sooner may be better than later.  Mortgage rates are headed upward finally.
Last Updated on September 20, 2019 by Chuck Marunde