Many people who are approaching retirement, or already have retired, have been planning their move to Sequim, and many are looking for a Sequim buyer's agent because they know the important of having their own representative without the conflict inherent in dual agency.
A Nevada couple bought a home in Sequim, and there's no doubt that they are two of my favorite people in the  whole world.  Having lived in the Nevada desert myself, we had some things in common.  Bob and Dorothy were retired and told me they thought of Sequim as a great midpoint between the hot dry desert of Nevada and the cool green mountains and rivers of Alaska, where they often spent time with family.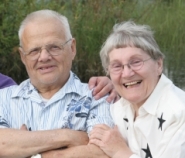 I love working for clients from out of the area and representing them as their Buyer's Agent.  We communicated for several months by email and on the telephone before they arrived, and by the time they got here, we already had filtered through a lot of homes to narrow down the MLS listings to eight good possibilities.
I loved how we communicated by email, because Bob and Dorothy each had some fascinating questions along the way.  For example, one of Bob's questions was, "This is going to sound like a odd question, but I know Seattle is pretty liberal, but what's Sequim like?  Liberal, conservative, or what?"  And one of Dorothy's questions that made me laugh was, "Is there a scrapbook making club in Sequim?"
Bob said he had some things he wanted in their Sequim home, but he was flexible.  He wanted a two car attached garage, and he wanted a shop or at least enough acreage to build a shop for his RV and wood working tools.  His main theme was, "I could live in almost any home, but Dorothy wants a nice kitchen.  She's got some ideas, and she says she'll know it when she sees it."   When Bob said that I looked at Dorothy for her response, and she kind of bobbed her head back and forth with a hint of a smile on her face.
As we walked through each home, we would talk about its features.  Mostly I listened.  Having only seen the online photos and virtual tours (on two of the listings that had tours), Bob would comment that some of the homes didn't look at all like the photos, and Dorothy was more emotional in her responses.  "This house doesn't speak to me," she said about one house.  And about another house she said, "This kitchen doesn't feel right.  I can't do this."
Bob was apparently more left brained than Dorothy, because he would say about a garage, "That'll work," or "Not deep enough."  Brief and to the point.  I guess that was a function of his background as a CEO of a corporation.
About midway through our tour of the eight homes, we did talk about the possibility of them having a home built if they couldn't find the right location and floor plan, but it was the seventh house that hit the mark.  As soon as we drove up, Bob and Dorothy both started nodding their heads in approval, and when we walked in the front door, they both went silent.  And then they began to examine the house like a fine art museum.
Dorothy slid her hands across the marble countertops in the kitchen as she imagined herself cooking dinner and practically living in the kitchen every day.  I could almost see the gears turning as she quietly moved around the kitchen and dining room and living room.  She told me later she was feeling like she was home and she was just taking it all in.
Bob watched Dorothy and he mechanically went through the other rooms giving his approval for this feature and for that.  We ended up sitting on the large leather sofa in the living room and just relaxing for a few minutes while Bob and especially Dorothy just soaked it up.  Brazilian hardwood in the living room and hallways, a classy tile in the kitchen with marble countertops and custom built cabinets, a grand master bedroom with a walk-in his and hers closet, a bathroom with a large shower with tile and high quality hardware and a large deep tub with jets.  The five acres is level and all irrigated with a commercial underground system.  And a fishing hole within walking distance.  Almost too good to be true.
After some negotiating, and a few contingencies and some due diligence, Bob and Dorothy bought their dream home for $460,000.  Are they happy today, months later?  Absolutely.  You would think they arrived in Heaven already.  Were there some challenges and some stress along the way?  Yes.  But nothing we couldn't handle together.
I help retired people find the home they expect to live in the rest of their lives.  Their castle.  I love what I do, and I really like my clients, too.  Of course, Sequim is an amazing place to live.
Last Updated on July 27, 2012 by Chuck Marunde