Port Angeles is watching its new Wal-Mart Supercenter currently under construction directly across from the old Wal-Mart store on the east end of Port Angeles.  The new location has been a vacant commercial property for years, previously occupied by a K-Mart store.  That K-Mart store went out of business a couple of years after Wal-Mart opened their store in Port Angeles.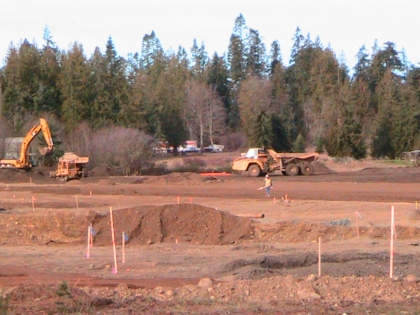 Wal-Mart Supercenters are hypermarkets with an average size of about 197,000 square feet, and they stock everything a Wal-Mart Discount Store does, plus a full-service supermarket, including meat and poultry, baked goods, delicatessen, frozen foods, dairy products, garden produce, and fresh seafood. Many Wal-Mart Supercenters also have a garden center, pet shop, pharmacy, Tire & Lube Express, optical center, one-hour photo processing lab, portrait studio, and numerous alcove shops, such as cellular phone stores, hair and nail salons, video rental stores, local bank branches, and fast food outlets, such as Subway, Dunkin' Donuts, McDonald's or Blimpie. Some also sell gasoline distributed by Murphy Oil Corporation, Sunoco, or Tesoro.
Why would Wal-Mart build an entirely new Wal-Mart directly across the street from a perfectly good Wal-Mart building and parking facility?  Good question, and there is a logical answer.  (I love it when I get to ask myself a question and then answer it.)
The new Wal-Mart will be a Supercenter, so it will offer much more to the community in products and services, and that will give Wal-Mart a much greater gross profit.  It is likely that their grocery store will take business away from Costco in Sequim, at least for the Port Angeles residents that currently drive to Sequim to shop at Costco.  It is also likely that Wal-Mart's grocery store will hurt the Safeway store nearby.  For anyone who has been in a Wal-Mart Supercenter, you know that their grocery store is pretty impressive, has fresh produce, and the prices are unbelievably low.
The other logical reason Wal-Mart builds a new store and leaves the old is a defensive strategy.  The old property will eventually go up for sale no doubt, but you can be sure that Wal-Mart will have a restrictive covenant that prohibits the property from ever being used by a competitor.  Pretty smart strategy, isn't it?
Port Angeles can be thankful that at least one big corporate store is building in town.  For the past decade Sequim seems to have been getting all the large anchor businesses.
Last Updated on July 27, 2012 by Chuck Marunde