No building permit on a home can be trouble. What if you're looking at a home in the mountains online in the MLS, and the home has no building permit? There are some homes that have been built intentionally "off the grid," and some of these have no electric, no Internet and no public utilities of any kind. This article addresses how you can know if a home you're looking at online has no building permit, and if it does and you are still interested, how do you do your due diligence before making an offer.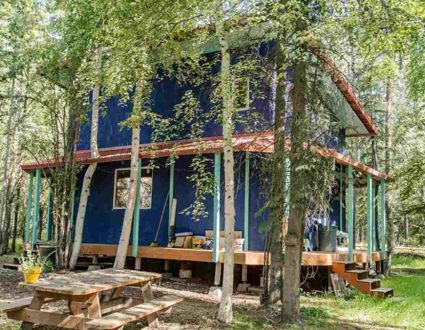 No Building Permit
Here's the challenge with the MLS online. Far too often listing brokers do not reveal whether a home has no building permit. You would think that is an obvious piece of important information that would always be included, but it seems Realtors in the Sequim and Port Angeles area do not reveal that. The last two homes with no building permit did not mention that important detail in the listing information.
I have learned to recognize key language that many Realtors use to give us clues. If you see these phrases in the property description, you will want to do further research: "off the grid," "far from other homes," "in the middle of thousands of forested acres," "has its own generator and propane," or "ultimate privacy off the grid."
Of course, you can always call or text me (360-775-5424), and I will be able to answer the question on any home and whether it has no building permit. It's not illegal for someone to sell a home with no building permit, but if you ever want to get permits to make any improvements, you must first have an original permit, and if you ever want to sell the home years later, you might have trouble finding a buyer who will buy a home with no building permit.
No Building Permit and Online Research
You can also take the tax parcel number and plug it into this special website, which will show you if the property has building permits, septic approval, and much more: Building Permits. 
If you are interested in a property "off the grid," and you want to learn how to get it permitted long after it was built, call me or email me, and I can walk you through the county process to obtain a building permit. It's not always possible, but if it is there is a way to get it done.
By the way, this link I just gave you above is an excellent link to learn a lot about any property you are looking at. This will be a very useful link when you are researching Sequim real estate. Of course, I will always help you find out if there is no building permit, too.
Last Updated on September 6, 2019 by Chuck Marunde