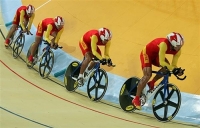 Port Angeles and Seattle have a strong connection with China.   China is so far away, not just geographically, but culturally and economically, most of us in Sequim and Port Angeles hardly give China a thought.   We're going to be hearing a lot more from China in the years to come.   We already have growing ties with China, and it is all good.
Ryan Kent Smith of Sequim has been teaching in China for several years.   My own son, Jesse, competed in Chengdu, China four years ago in the World's Strongman Contest.   Jesse told me that Chengdu was exploding throughout the city with enterprising businessmen.   Most recently, a client of mine who is buying property in Port Angeles, has a thriving trade show business in China.   Seattle has a sister city in Chongqing, China.   Economic relations between Washington state and China is building momentum as the Chinese economy escapes the grip of its past bondage.
A massive new U.S. Embassy, the second-largest in the world after the heavily fortified compound in Baghdad, formally opens in the Chinese capital this week, a testament to the depth and breadth of the ties binding us.   President Bush, who will be attending the Beijing Olympics opening ceremonies Friday, will preside over the ribbon-cutting at the $434 million, 500,000-square-foot compound that same day.
The Olympics are bound to break a few more boundaries between us, and this is all good.
Last Updated on August 6, 2008 by Chuck Marunde