How could a Port Angeles home for sale get stolen?  Well, it did, and this is the true story of how a custom built Port Angeles home for sale was stolen.  I know because I personally witnessed the entire episode.  This home was originally listed for over half a million dollars, and it just sold for $227,500.
Port Angeles Home for Sale – Custom Home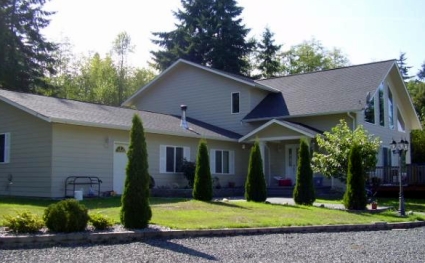 Port Angeles Home for Sale – 10 Gorgeous Acres
We need to start at the beginning.  In April of 2010 this Port Angeles home for sale was put in the MLS at a price of $550,000.  It is beautiful custom built home, 3,440 square feet, hardwood floors, a kitchen with custom built cabinets, a large island, and far too many amenities to mention.  You can see from the photo how beautiful this home is.  There are 4 bedrooms and 3 baths, and a large entertainment area.  It was built in 2007, and it sits in the country in a very private setting (you can't see any other homes).  But it gets better.  This home is nestled on 10 fenced acres, which is 80% cleared.  There's a small guest home on the property, and a nice garage and shop.  Believe me, this is a rare property.
I showed this Port Angeles home sale several times over the years as the price slowly came down to $450,000 and after not selling for a year, it was relisted and the price raised to $495,000.  I'm not kidding.  There certainly can be a reason for raising a listing price, but in this case there clearly was not.  After not selling for another full year, the price was reduced to $425,000.  During this time, I wrote an offer on the house for what my clients (and I) felt was a reasonable fair market value in the amount of $345,000.  The seller's and their Realtor laughed at us. 
At the time we drafted the offer, my intuition told me to take my clients down to the county building department and look at the building permit file.  That's not something I do regularly, but in this case my gut told me something was missing.  I wasn't sure what it could be, but off we went to the county.  When my clients and I ask for the county building permit file, which is public information, the county clerk said, "There's no house on that property."  I responded, "Yes, there is."  With a straight face she said, "No there isn't," to which I replied, "Yes, there is." 
Port Angeles Home for Sale- No Permit
Finally, with a smile she brought out the file.  The owner had built this entire house without any building permit.  Is that amazing or what!  My clients as buyers would have to get permits in order for the house to be inhabitable legally.  The county told us there would have to be inspections of the inside of the house walls, the electrical, the plumbing, the foundation, the construction of the home, the roof, and so on.  If it all complied with the building code, the permit fees plus penalties would have to be paid.
Of course I called the listing agent and asked if she knew the house was never permitted, and if she did, why was it not on the MLS data sheets and disclosed.  I never got an answer, and the MLS data sheets in the weeks to follow never did disclose that this house was completely illegal and umpermitted.  Amazing.
This Port Angeles home for sale just sold at a foreclosure sale for $227,500.  Absolutely amazing.  I wonder if the new owner even knows that the house has no building permit.  However the new owner may have paid for it (with or without a loan), she certainly got one of the bargains of the century.  This Port Angeles home for sale was stolen.
Last Updated on March 9, 2012 by Chuck Marunde