There is a push by many buyers to take advantage of affordable housing programs, including the Federal Buyer's Credit and a great program referred to as Section 502 of the United States Department of Agriculture (USDA).  In a recent communication with local lenders, the Department of Rural Housing for Washington State wrote, "As you know, the first time home buyer market has experienced a surge in volume over the last year and all of us involved in the mortgage industry are feeling the affects of that volume.   Because the Rural Development Guaranteed Loan Program is the only zero-down program remaining (other than VA) – many first time homebuyers are choosing the program and it has led to unprecedented demand."

You can see this in chart how the volume of demand has increased for these loans recently in the State of Washington: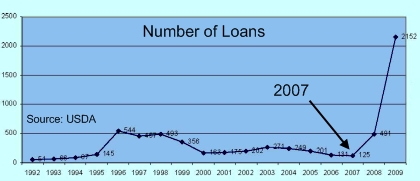 Here's a great description of this loan program directly from the Department's website:
Rural Housing Direct Loans are loans that are directly funded by the Government.   These loans are available for low- and very low-income households to obtain homeownership.  Applicants may obtain 100% financing to purchase an existing dwelling, purchase a site and construct a dwelling, or purchase newly constructed dwellings located in rural areas.  Mortgage payments are based on the household's adjusted income.  These loans are commonly referred to as Section 502 Direct Loans.
Purpose: Section 502 loans are primarily used to help low-income individuals or households purchase homes in rural areas. Funds can be used to build, repair, renovate or relocate a home, or to purchase and prepare sites, including providing water and sewage facilities.
Eligibility: Applicants for direct loans from HCFP must have very low or low incomes.   Very low income is defined as below 50 percent of the area median income (AMI); low income is between 50 and 80 percent of AMI; moderate income is 80 to 100 percent of AMI.  Click here to review area income limits for this program.  Families must be without adequate housing, but be able to afford the mortgage payments, including taxes and insurance, which are typically within 22 to 26 percent of an applicant's income.  However, payment subsidy is available to applicants to enhance repayment ability.  Applicants must be unable to obtain credit elsewhere, yet have reasonable credit histories.
Anderson Homes is an approved builder of USDA homes, and you can learn more from his website at:  USDA Homes Qualification in Sequim and Port Angeles.  Rick Anderson can be reached at 360-452-4641.
One model plan that qualifies home is 1,250 to 1,275 square feet, built by one of the most experienced custom home builders in all of Sequim and Port Angeles, and the total price is only $225,150.   This is an amazing price, and you can bet that the demand will exceed the supply, as you can see in the chart above.
Last Updated on September 2, 2019 by Chuck Marunde