This  Port Angeles water view home is one of the most beautiful and luxurious homes on the Olympic Peninsula.  Sitting high above Port Angeles overlooking the city and the Strait toward Victoria, B.C., every room in the house has been designed to capture the view with large windows and a full deck.  Click on the photo below to enlarge it and see the view from above.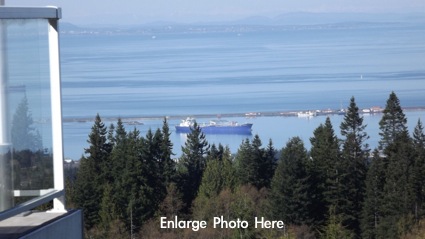 Port Angeles Water View
This photo above was taken with the deck railing in the foreground, and with a telephoto lens, the water appears closer than it actually is, but you get the picture.  You can peek at the MLS data sheet and more photos at Port Angeles Water View Home, but no MLS data sheet can capture the essence of this luxury home.  This is why I've included a full features list below. This is the perfect home if you want everything you need on the main floor, including the master bedroom, the kitchen, the living room, the laundry room, and the garage.
This custom built home is on 10 acres of very private property, has a full auto shop with a car lift, has a modern chef's kitchen, includes a three car garage, luxury throughout, hardwood floors, high ceilings, completely wired (outlets and light fixtures and appliances) with fiber optics, has a backup generator system, and much more. And this home is priced to sell at $799,000. This is a rare find, and one of the best Port Angeles Water View homes you will ever find on the market.
Port Angeles Water View Features List
See the detailed features list of this incredible high tech luxury home at Port Angeles Water View Home.
Last Updated on September 21, 2019 by Chuck Marunde