What's a one million dollar home look like? This is a one million dollar home, at least it cost about that much, but it is on the market for $699,000. I'll be showing this home today. This is an extraordinary Port Angeles water view home, and the view includes a panoramic water view from above Port Angeles to Victoria, B.C., the San Juan Islands, and Mount Baker. This home was built by  one of the finest custom home builders in the Northwest, and the home lacks virtually nothing. If you'd like to walk through the inside of this home this very minute, you can with this 3D virtual tour. Use your mouse or the arrows on your keyboard to walk through the entire home, and you can turn any direction, including 360 degrees in any location inside the home.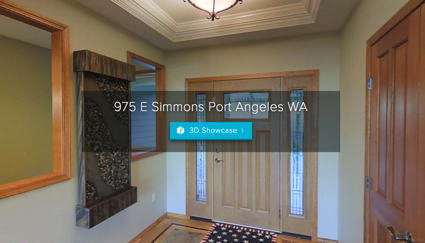 One Million Dollar Home with Water View
This home is on 10 acres at the end of a private road backed up to State DNR property, and yet it is only 7 minutes from a grocery store in Port Angeles. The kitchen is a chef's dream. And there's a 30×40 car lover's shop with a commercial lift. The house is completely wired with high speed Internet. This is what a one million dollar home looks like on the Olympic Peninsula, and it's listed at $699,000 right now. This is very likely the best value in the entire Sequim and Port Angeles area.
One Million Dollar Home Full of Features
There is a lengthy list of features that were built into this home. If you would like to see the features list, simply email ChuckMarunde@gmail.com and ask for the One Million Dollar Home Features List. You can learn more about this home by viewing the MLS data sheet and photos at Port Angeles Water View Home.
Last Updated on June 17, 2019 by Chuck Marunde