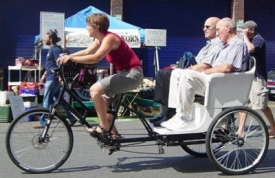 Some real estate agents around the country are riding bicycles to save gas and the environment while they show their clients homes for sale.   Amazing!   In this photo, an agent in San Diego takes clients out.
This presents a challenge to all of us who are Realtors.   Do we promote bicycling to show houses and land?   Would clients like that?   Should be we more conscious of the environment and try to save fossil fuels?
The answers are no, no, and yes.
Bicycling has not caught on in Sequim or Port Angeles as a popular form of transportation for showing listed properties for sale.   Hmm.   How long would it take for me and two clients to look at eight houses on bike's stretching from Freshwater Bay west of Port Angeles to the John Wayne Marina in Sequim?   Answer:   too long.
Last Updated on September 29, 2008 by Chuck Marunde