Sequim's iRealty (aka Sequim & Port Angeles Real Estate) is a real estate broker constantly on the move to give buyers more than they can get anywhere else, and we've been doing that for a decade. You can see how true that is with all of these "Firsts." We just updated our graphic in the right margin listing all the services this real estate broker has offered before any other local broker, and the list is long. All of these are firsts in this Sequim real estate market. Buyers have been expressing their appreciation for all the resources we give them absolutely free, and . . . the truth is, we're having more fun than we've ever had before.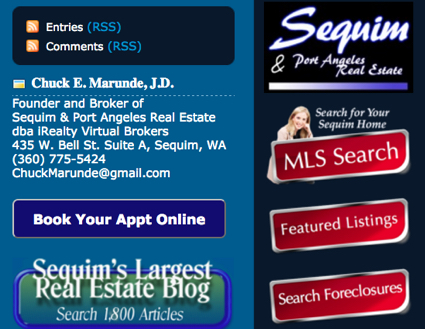 Real Estate Broker for Buyers
We are the first Sequim real estate broker to have such a massive real estate blog with 1,000s of articles written specifically for buyers.

We were first to have a a public MLS site for buyers with both the Olympic Listing Service and the Northwest MLS listings searchable on one site.

We were first to design and program special MLS sites the way buyers wanted them (for power and ease of use). We have 3 MLS sites for buyers.

We had the first Sequim iPhone app for searching real estate, and it was also the first Sequim iPhone app in the iTunes store.

We were the first (and to date only) real estate broker to publish a book for buyers of Sequim real estate with chapters on all the main issues of concern.

We were the first and only real estate broker to publish many books for buyers in paperback and eBook versions.

We were the first to have a weekly email newsletter about Sequim real estate.

We were years ahead of others who are finally doing real video tours.

We were the first (and only) to do 3D virtual tours with a super 3D camera.

We were the first to do aerial videos of farms and luxury homes.

We were the first to film, edit, and publish so many Sequim videos.

We were the first real estate broker to have a full time professional writer, photographer, videographer, Internet marketing expert, and real estate attorney on board.

We were the first (and only) Sequim real estate broker to receive the Five Star Real Estate Award (in 2014 and again in 2015), an award given to less than 7% of 25,000 Seattle area Realtors.
Real Estate Broker Sets The Pace
What does all this tell you? We hope it tells you that we are more serious than any other broker when it comes to serving you with the best information, the best and highest levels of professionalism and competence, and that we prove it every single day by giving you more than anyone else online and in email, texting, on the telephone, and in person. It's not only the tools, it's also the knowledge and expertise. Where can you get a real estate broker who practiced as a real estate lawyer for 20 years?
We don't just sell real estate. We help you fulfill your dream of finding that perfect retirement home in Sequim, and we do it with passion and conviction and integrity seven days a week. It's who we are. It's what we do. We are your favorite Sequim real estate broker.
Update on 10-31-2015: Chuck Marunde is the No 1# Sequim Buyer's Agent (for all of Sequim and Port Angeles) for the past 3 years, personally selling more single family homes by volume (over $21 million in personal sales) than any other agent or any "team" of agents.
Jay Bryan writes, "Awesome Real Estate GURU! Best I have ever worked with. Bar NONE." Is Chuck your real estate broker?
Last Updated on September 7, 2019 by Chuck Marunde