What is the real estate market doing?  Are homes selling in Sequim and Port Angeles?  Yes, but it is a slow market.  Buyers are discerning and cautious, and only homes that are reasonably priced are selling in this market.
The Real Estate Market
There are homes where sellers (or their agents in whom sellers place their trust) are grossly overpriced to the tune of tens of thousands of dollars.  This real estate market is full of inconsistencies from home to home.  But the reasonably priced homes that are within the parameters of what retirees are looking for, are selling, albeit very slowly.
Real Estate Market on Bell Hill
I've sold two homes recently (8 this calendar year) which show up on my Market Report as red diamonds representing sold homes, and on Bell Hill I've sold one home recently, which turns out to be 50% of all Bell Hill homes sold this calendar year.   It's a bit surprising that Bell Hill homes have not been selling this year, and there are many for sale, but that says more about the real estate market than it does Bell Hill.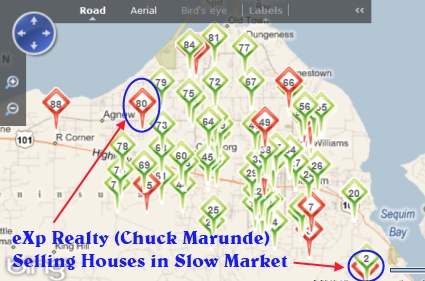 Real Estate Market Data
Of course, the real estate market statistics around the country can be confusing.  And from week to week, we are bombarded with reports ranging from the real estate market is crashing further to the real estate market is recovering nicely.
If you want to follow the Sequim real estate market and the Port Angeles real estate market, you can access these free reports online at Sequim Real Estate Market.
Last Updated on September 2, 2019 by Chuck Marunde