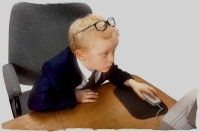 Realtors are bombarded daily with Internet proposals from the thousands of would-be Internet millionaires who are trying to suck unwary Realtors into their services.   A search of the Internet in Google for the phrase "real estate agent websites" gives you . . . 55 million results. For the phrase "real estate agent blogs" you get almost 26 million results.   Wow!   The claims are nothing short of extraordinary.
We Put You On the Top of the Search Engines!
Impress Your Clients!   Get Top Google Search Rankings!
Your Listings On The First Page of a Google Search!
Be Top Dog!   You Website Will Get Leads Galore–Guaranteed!
We Gurantee Leads for You!
Capture More Clients Than You Can Handle on the Internet
We Guarantee Top Search Engine Rankings!
Buy Your Zip Code and Be The Exclusive Agent in Your Area
So, here's a thought.   Since these are experts on the Internet and search engine optimization, you would expect that they would be on the first page of a Google search themselves.   But only 10 of them can show up on the first page of a Google search, right?   Of course, that's impossible, since there are thousands of them.   Some of them are paying to show up in the right hand column.   So much for organic and guaranteed first page presence.   It would seem they are guaranteeing Realtors something they cannot do for themselves, at least the vast majority of them.
Then there are the annoying websites that consumers hate.   I'm talking about the real estate websites and portals that make you register before you can find out more about the property.   ANNOYING!   Just leave those websites, because there are good Realtors who offer you free search options without demanding your social security number and underwear size.
And there are still more real estate portals that offer you some scanty information, but not the listing agent's identification or contact information.   On those sites to get more information, you are forced to register so an agent can contact you, or you are forced to contact some agent who pays to be the exclusive agent on that page.   These sites do generate some business for Realtors, but the Internet is evolving to give us more freedom and more options.
Okay, there's nothing illegal or unethical about any of this.   This is America the Great, free enterprise and all that.   Just understand that the primary goal of the vast majority of all of these sites is not to help you buy or sell real estate, but to make money by selling services to real estate agents.
Did you notice this blog is absolutely free, and does not require you to register or identify yourself?   I hope you enjoy this site, and I hope you get real value out of all that you can do through this blog.   And watch this, if you are benefiting, it is still all free.     And I let you be anonymous, if you want to be.   I know, I'm a nice guy.   (Humor intended.   I'm really quite a boring guy.   I think.   Maybe.)
Conclusion.   When you do your due diligence to find a Realtor who is competent and trustworthy, may I suggest you be certain he or she is also an Internet marketing expert?   That's critical in this day and age.   Hint:   Very few are.
Last Updated on July 30, 2008 by Chuck Marunde