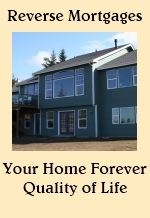 Reverse mortgages have been promoted in many commercials and by some famous Hollywood stars with whom senior citizens identify.  Credible stars like Robert Wagner and Fred Thompson have touted reverse mortgages as wonderful financial solutions for senior citizens.  These two venerable stars were certainly chosen for the great credibility they have with senior citizens.  In the Fred Thompson advertisement on T.V., he says, "Reverse mortgages are helping seniors overcome financial worries and live the life of their dreams," and the commercial goes on to state that they "don't cost anything and you won't lose anything."
When anyone talks like this, we should all be put on alert.  When debt is promoted as a way to freedom, be cautious.  Reports of widows being evicted are now raising new concerns and expose reverse mortgages for what they really are–a very dangerous proposition for homeowners at any age.  See Widows Sue Government and Reverse Mortgages Put Homeowners at Risk and Elderly and Reverse Mortgage Risk.
Reverse Mortgages Sound Good
Ads are all over the Internet telling seniors how great reverse mortgages are, and using key phrases like, "quality of life," or "your home forever," and downplaying the risk.  The idea is that if you own your home free and clear, you can get a mortgage on your home so you will receive an stream of income, and you will never have to move out of your home even if you can't pay the loan back.  The bank would only collect after you die.  Sounds good, right?
Reverse Mortgages Dangerous
Guess what?  Widows are being evicted from their homes because of a little clause in the paperwork.  If a surviving spouse's signature is not on the mortgage, she or he will be evicted if they do not pay the entire loan off immediately upon the death of the first spouse.  Wow!  Where was that small print?  Maybe it was in a Times Roman 6-point font tucked somewhere in the 17 page reverse mortgage documents.
Reverse Mortgages – Avoid Them Like the Plague
Wisdom tells us to avoid debts and not to be a slave to the lender.  (None of these rules apparently apply to the Federal government according to our politicians.)  Reverse mortgages are another way to be in bondage to debt.  There are logical financial and legal reasons why one spouse may not sign a reverse mortgage, but the risk of being in debt like this, and the risk of being evicted from your home when you are in your 80's is simply not worth it.  Before you sign the dotted line and get behind the idea of reverse mortgages as panaceas for seniors, I strongly recommend you seek sage advice.
Recently I spoke with a mortgage expert about reverse mortgages and this particular danger, and he said he thought this had been changed by law so that it was no longer possible to evict a spouse.  You should talk with a mortgage expert on reverse mortgages.  Buck Gieseke wrote an excellent article about reverse mortgages, and you can read that at Reverse Mortgages – Should I Get One?
UPDATE:  Months later here we are in December of 2011, and a whole new barrage of T.V. commercials are hitting us daily, and guess who the stars are?  Two of my favorite characters–Fred Thompson and Robert Wagner.  Their sponsors have cast them in entirely new scripts and much more professional commercials than the earlier ones, but now Fred Thompson says, "You don't even need to have an income or a good credit score."  Doesn't that sound a bit like the sales hype that got us in the national mortgage disaster in the beginning?  You might as well advertise, "Folks, there is such a thing as a free lunch.  Come one, come all, and get your free lunch and free money, too."  That is how these commercials promote reverse mortgages, making it all sound so easy and wonderful and free.
One of my concerns about reverse mortgages is that they sell them with the same kind of hype that we know is full of it.  There is no free lunch.  Assuming they are no longer kicking widows out of houses for husbands who did get a reverse mortgage and died (yes, they did that, and told no one in advance it was possible), my question is what kind of nightmare awaits the elderly couple who get a reverse mortgage now?  Remember what Shakespeare said, "Neither a borrower nor a lender be."  When you borrow money, especially most of the equity in your home, you become a slave to the creditor.  There are implications to becoming a debtor, and none of them are good.
Having said this, I will say a reverse mortgage might possibly be a good move for an elderly couple who is in serious financial trouble, does not have enough money for medical bills, cannot afford the basic necessities of life, and this is their only possible source of funds.  But the commercials are promoting ideas of living a life of luxury, traveling the world, enjoying the things you've always wanted to do, and so on.  This really sounds like the kind of fraudulent advertising that was at the core of the mortgage crisis that crashed the real estate market.  I'm just saying . . .  now the same language is clothed in selling reverse mortgages.  If you desperately need the money, fine, but if you can survive without, you might just avoid traps for the unwary, and there are plenty of them in the mortgage business that is so full of greed and fraudulent advertising.  Reverses mortgages – beware.
UPDATE 9/20/2012:  Since I originally wrote this article and the previous update, TV commercials pushing reverse mortgages has reached a crescendo.  Every day, constantly are commercials with credible Hollywood starts such as Henry Winkler, William Devine, and Pat Boone are all being paid to push reverse mortgages.  So I still have reservations for elderly retired folks.  Anytime banks or mortgage companies are pushing debt, that raises a red flag for me.  Debt, debt, debt.  Credit, credit, credit.  Aren't we in trouble nationally because of massive debt that has no end in sight?  Didn't the entire mortgage industry crash because of excessive debt and mortgages that are killing people?  Now it's okay to push more debt on retired citizens with limited retirement pensions?  It's bothersome, isn't it?
Last Updated on September 2, 2019 by Chuck Marunde