Sequim Open House:  June 4th, 2011 from 2:00 to 4:00 at 83 Solar Lane in Sequim.  This is a 3 bedroom, 2 bath home with a mother-in-law apartment or what could be a home office with it's own entrance.  There is also a large shop in this private area on over 2 acres of gorgeous Sequim real estate.  This house is being sold at a huge loss.  It's a buyer's market, and the seller's are taking over a $100,000 loss.  Their loss is your gain at the price of $289,900.  There is also a $5,000 selling side bonus to the selling Realtor.

This is a Realtor Sequim Open House, but everyone is welcome.  The public is welcome.  Learn more about the details of this home and see more photos at Sequim Open House.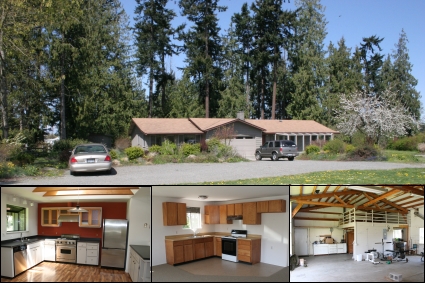 Driving Directions:  Drive west on Old Olympic Highway over the Sequim-Dungeness River, turn left on Heath Road, and turn left on Solar Lane to 83.  This Sequim Open House is sponsored by eXp Realty and Chuck Marunde.
If you've read my earlier article about Sequim Open Houses, you know that I am very focused on my clients and on consumer protection, so I don't collect your personal information when you come to look at one of my open houses.  I don't harass people.  I answer your questions, and give you a link to my blog.  That's it.  I treat people the way I would like to be treated.
Come by and see this fantastic Sequim Open House.

Last Updated on September 4, 2011 by Chuck Marunde